Ohio motor vehicle accident attorneys: Helping victims get their lives back on track
Posted in Accident & Injury on April 2, 2013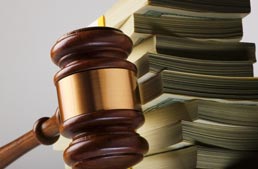 Sometimes, an accident victim can do all the right things and still face trouble when dealing with an insurance company. That's when our experienced lawyers can step in and help.
In February of 2011, a 37-year-old husband and father of three was injured when his Pontiac Grand Am was rear-ended by another driver. After the accident, he was transported to the Emergency Room by EMS where he complained of neck and back pain.
Within a few weeks, he followed up with his family doctor, where an MRI revealed that the client had an injured disc in his back.
As a result of his injuries, the client lost his job and subsequently his health insurance. After trying physical therapy and injections with no positive results, doctors determined that surgery was the only option to fix the client's back injury. However, with no health insurance, the client was unable to afford the surgery.
From the beginning, the other driver's insurance company questioned everything, from the amount of damage to his vehicle to the severity of his injuries.
Elk & Elk attorney Matt Carty was able to find an expert to take a look at the client's records. The expert agreed with the family doctor that the accident had caused the back injury and the only way to fix it was surgery.
With the threat of litigation hanging over their heads, the insurance company agreed to settle, giving the client the policy limits, or the maximum amount possible, $100, 000.
Carty said the client was very happy with the assistance Elk & Elk was able to provide. He can now afford the surgery and is able to get back to work.
If you or a loved one has been injured in an accident, you need an experienced personal injury attorney to fight for you. Find out how Elk & Elk can use our resources to get you the results you need. Call 1-800-ELK-OHIO or fill out our online consultation form.