Ohio launches new variable speed limit signs to make work zones safer
Posted in Workplace Injuries and Claims on April 19, 2013
Summer is right around the corner. That means besides warm weather and having the kids home from school, we should expect to see lots of orange barrels on the roads.
Public safety officials are urging Ohio drivers to slow down in work zones. Over the past decade, the number of work zone crashes in Ohio hasn't been below 5,000.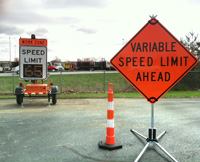 National Work Zone Safety Awareness Week is April 15 through April 21. As part of the week, the state Transportation Department is trying out a new piece of equipment that could help reduce the number of crashes in construction work zones. The number of work-zone accidents increased to 5,188 in 2011, the most recent year for which data is available. Sixteen people died in Ohio work zone accidents in 2011.
ODOT is piloting the new safety weapon, known as variable speed limit trailers. The portable devices come with technology that can be programmed to display a safer, slower speed, but only on the stretches of roadway where construction workers are present.
Around the state, there are 10 construction projects this year that will pilot the use of variable speed limit signs:
Franklin County – Resurfacing and pavement repair on Interstate 71
Henry County – Resurfacing a four-lane highway on U.S. Routes 6/24
Portage County – Spot pavement repairs on Interstate 76
Fairfield/Licking Counties – Bridge maintenance and repairs at various locations on Interstate 70
Madison County – Pavement repairs at various locations on Interstate 70
Montgomery County – Pavement repairs at various locations on U.S. Route 35 west of Interstate 75
Shelby County – Pavement repairs at various locations on Interstate 75
Ross/Pike Counties – Resurfacing of U.S. Route 23
Two projects in Athens County – Resurfacing of U.S. Routes 33 and 32/50
An ODOT analysis found that 56,945 vehicle crashes occurred in Ohio work zones from 2003 to 2012. Of those crashes, 20,590 happened when construction workers were present.
The top causes of work zone crashes are speed, following too closely, failure to control and improper lane changes. All four of these are easily preventable if drivers would just use a little more caution. Slow down, keep your eyes on the road and leave a little extra room between you and the car in front of you when you are driving through construction zones. And if the construction is in an area you drive through as part of your daily commute, make sure to plan extra time into your drive or find an alternate route.
If you or a loved one has been injured as the result of a work zone accident, let the personal injury lawyers of Elk & Elk help you get the compensation you deserve. Call 1-800-ELK-OHIO today or fill out our free, no-obligation online consultation form.