NTSB Most Wanted List 2014
Posted in Accident & Injury on February 18, 2014
Are you one of this country's 'Most Wanted?' If you've been using your cell phone or other portable electronic device while driving, then you've been engaging in distracted driving—one of the top priorities for the national Transportation Safety Board.
Each year, the NTSB releases its Most Wanted List, which represents their advocacy priorities. It is designed to highlight the most critical changes needed to reduce transportation accidents and save lives. This year, the agency is pursuing a number of goals, including the elimination of distractions in all modes of transportation—highway, aviation, railroad, marine, and even pipelines.
While this may seem like a daunting task, you can do your part by making the commitment to drive phone-free and encouraging your friends and family to do the same. Check out our infographic to learn more.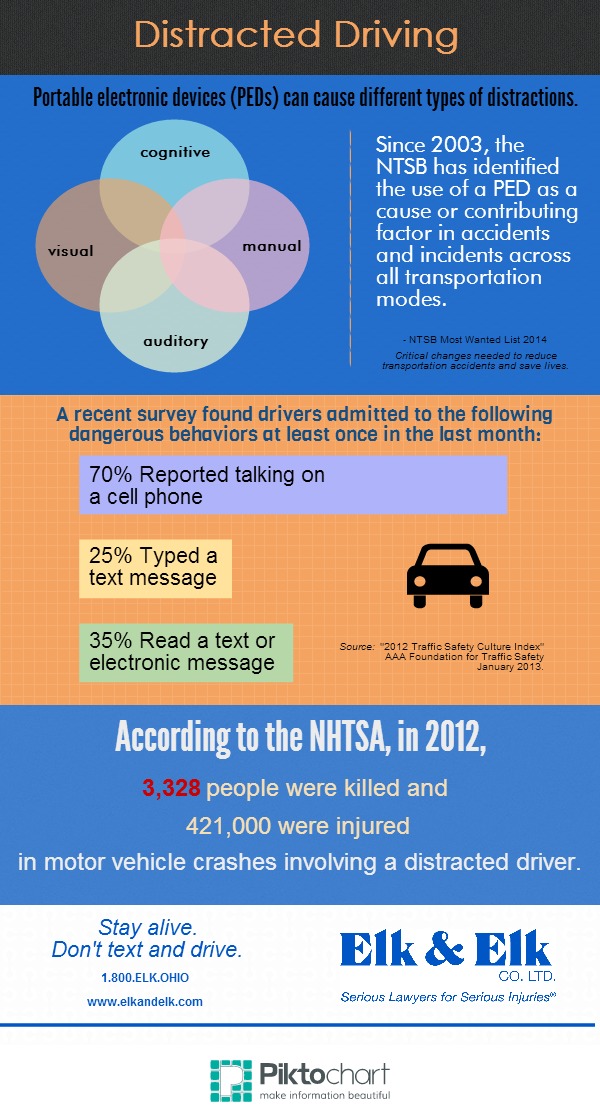 According to the NTSB website, cell phones and other electronics are a "cultural epidemic."
"With the expansive increase in portable electronic devices (PEDs), including cell phones, messaging and navigation systems, and entertainment devices, as well as the growing development of integrated technologies in vehicles, the NTSB is seeing a disturbing growth in the number of accidents due to distracted operators; often these accidents have deadly consequences. . . In short, operator distraction due to PED usage is a cultural epidemic that too often has tragic consequences."
The complete NTSB Most Wanted List includes the following goals:
Address Unique Characteristics of Helicopter Operations
Advance Passenger Vessel Safety
Eliminate Distraction in Transportation
Eliminate Substance-Impaired Driving
Enhance Pipeline Safety
Improve Fire Safety in Transportation
General Aviation: Identify and Communicate Hazardous Weather
Implement Positive Train Control Systems
Promote Operational Safety in Rail Mass Transit
Strengthen Occupant Protection in Transportation