New device would make it easy to see distracted driving history
Posted in Accident & Injury on March 12, 2018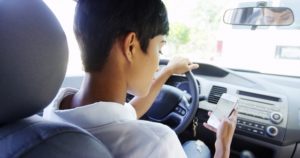 There were 391,000 people injured and 3,477 people killed in distracted driving-related accidents in 2015.
But that number could very well be higher. In the aftermath of an accident, it can be difficult or impossible to know if the driver was engaging in distracted driving.
How do police officers know if a driver was using a phone while driving?
There are a few ways: After an accident occurs, police may look up phone records. They may also review stop light cameras and surveillance videos. And often, distracted driving use is obvious. Police may spot a driver talking or texting while driving.
However, a new device would make it easy to see if and how a driver was using a phone before an accident.
New technology from Cellebrite, an Israeli digital intelligence solutions company, shows if and how a phone was used in the moments before a crash.
The technology is similar to a Breathalyzer, and is being dubbed a "textalyzer". When an officer suspects a driver of distracted driving, Cellebrite would be used to extract data from a phone.
According to a Motherboard article published in December, 2016, Ohio spent $75,659 on Cellebrite – which includes purchases, training, renewals, and more.
Cellebrite is not without controversy. This technology raises concerns about data privacy. And the company is claiming to be able to unlock most iPhones on the market that are running iOS 11.2.6. Cellebrite is under heat from the ACLU and other privacy protection advocates.
Cellebrite is marketing law enforcement agencies and could one day be a routine part of a distracted driving stop.
What do you think about the technology? Please share your thoughts in the comments section below.