What you need to know about arbitration agreements at nursing homes
Posted in Health & Wellness on January 31, 2018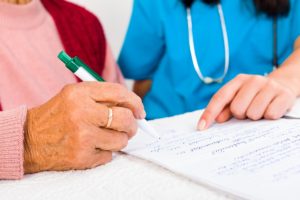 Placing a loved one in a nursing home is never an easy decision, but family members may feel relieved knowing that their loved one is safe and secure.
Unfortunately, bad things can happen to residents in nursing homes. Abuse, neglect or sexual assault of residents is, sadly, not uncommon.
Worse, in some nursing homes, the legal rights of victims may be limited because of something they signed in the admissions contract.
Arbitration agreements
In many nursing homes, residents are required to sign arbitration agreements as a condition of being admitted to the facility. In fact, up to 90 percent of major nursing home chains in the United States now include arbitration agreements when admitting new residents.
Arbitration agreements can limit the options of nursing home residents if an issue arises. If the facility fails to monitor a resident and the resident gets seriously injured, for example, the resident/family will have to go through the arbitration process. This process is void of a judge and jury – and there usually is no option to appeal a decision. An arbitrator makes a final ruling on the case.
Many residents and family members do not even know that they signed an arbitration agreement. They find out after something has gone horribly wrong.
Families should be aware of the dangers and limitations of signing arbitration agreements. Read any nursing home contracts thoroughly before signing them. Do your research and ask questions about arbitration agreements you will be required to sign, and consult an attorney if you have concerns.
Free consultation: If your loved one has been injured or neglected at a nursing home and you wish to speak with an attorney about your legal options, please call us at 1-800-ELK-OHIO.