Memorial Day Weekend sees 14 traffic fatalities in Ohio
Posted in Accident & Injury on May 29, 2013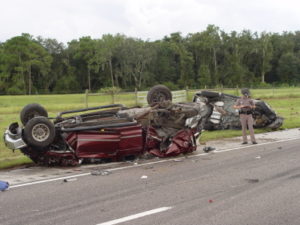 The Ohio State Highway Patrol (OSHP) reports 14 people lost their lives in traffic incidents over the weekend – up one from 2012.* OVI-related traffic fatalities decreased to three for the weekend, down from seven in 2012. But OVI arrests increased nearly 5 percent.
OSHP announced they made more arrests for impaired driving, drugs and felonies this Memorial Day weekend compared to the 2012 holiday weekend. By comparison, drug arrests increased by 62.2 percent, felony arrests were up more than 20 percent and crashes were 6.1 percent higher.
The Patrol's Columbus District, which encompasses Central Ohio counties, experienced the highest amount of OVI and drug arrests, with 148 and 98 arrests respectively. The counties with the highest rate of total incidents included Franklin with 3,258 and Cuyahoga which had 2,107.
The full Memorial Day Holiday Recap is available on the OSHP website.
National numbers were not readily available at the time of this posting. However, the National Safety Council (NSC) issued a statement last week estimating that "407 traffic fatalities and another 43,500 medically consulted injuries may occur over the traditional summer kick-off weekend from motor vehicle collisions."
The NSC reports that the average number of traffic fatalities over Memorial Day weekend is 13.1% higher than the average number of traffic deaths in the preceding and following weekends.
In any motor vehicle crash, the period immediately after the crash is critical. Prompt investigations can capture accurate explanations of what happened and prevent evidence from being lost or destroyed. If you have been seriously injured or lost someone you love in a motor vehicle accident, you can rely on Elk & Elk Co., Ltd., for help in your recovery. Contact our experienced lawyers to gather facts and evidence from the scene of the crash as soon as possible to help create a comprehensive picture of the incident.
For information about how our Ohio lawyers can help you obtain compensation for your damages after an accident, call 1-800-ELK-OHIO or contact us online.
*The four-day reporting period began May 24 at midnight and ran through May 27 at 11:59 p.m.