Warning for Meat Tenderized with Needles
Posted in Health & Wellness on June 12, 2013
Some grocers sell cuts of meat that have been mechanically tenderized.  Now, that may sound no different than machines wielding spikey meat-tenderizing hammers (like the one we all have shoved somewhere in the back of a kitchen drawer.) But for the food industry, the industrial method of meat tenderizing involves piercing the meat – with blades or needles.
While this process is great at making tough cuts of meat more tender, NPR reports, "[T]here's a downside, too; a higher risk of surface bacteria making their way into the cut of meat, which can set the stage for food poisoning." The CDC has tracked five separate foodborne outbreaks linked to mechanically tenderized beef. This is rather alarming news for anyone who enjoys their steak prepared on the rare side.
Food Safety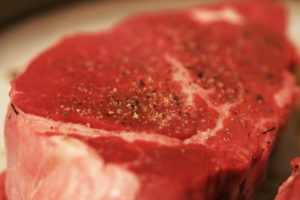 Intact cuts of beef can normally be cooked safely at a temp of 145 degrees F because the meat is not penetrated by outside bacteria. However, pierced meats such as ground beef or mechanically tenderized cuts should be cooked to 160 degrees F to kill any outside bacteria (such as E. coli) that may have penetrated into the meat.
In response, the USDA has proposed new labeling requirements so that customers would know if their meat has been pierced with blades or needles – and adjust their cooking times accordingly.  The Food and Safety Inspection Service (FSIS) has also proposed updated cooking time recommendations for their website.
What do you think?
The government wants to know. (Really.) You can comment on the new rule until August 9, 2013.
Sources
"Tender Beef, Without The Pathogens: USDA Proposes Labeling Rules" by Allison Aubrey, NPR, June 11, 2013.
FSIS Proposed Rule: Descriptive Designation for Needle or Blade Tenderized Beef Products, June 10, 2013.