May is National Bike Month
Posted in Health & Wellness on May 1, 2015
Whether you're riding to work or the grocery store, National Bike Month is a reminder to celebrate the unique power of the bicycle. From 2000 to 2013, there was a 62 percent growth in the number of Americans commuting by bike.
Benefits of Cycling
Bicycle commuting burns an average of 540 calories per hour.
The average person loses 13 pounds in the first year of commuting by bike.
A daily 4-mile bike commute will save about 66 gallons of fuel per year.
If the average person biked to work or shopping once every two weeks instead of driving, we could prevent the pollution of close to one billion gallons of gasoline from entering the atmosphere every year.
Cleveland Bike Awareness Ride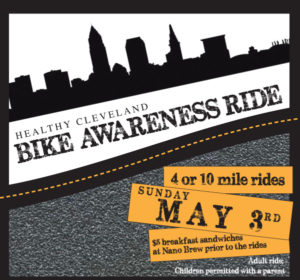 Are you itching to get out and enjoy the spring weather? Dust the cobwebs off your bicycle and join Bike Cleveland on Sunday May 3, 2015 for their second annual Bike Awareness Ride.
This ride reminds bicyclists and motor vehicles that they need to co-exist safely on our busy streets! Don't miss this chance to stretch your legs during a 4-mile or 10-mile ride on the open roads of Cleveland.
Registration begins at 9 a.m. at Nano Brew Cleveland (where there will be $5 breakfast sandwiches). The ride will begin at 10 a.m. behind Nano Brew at 1939 W. 25th Street, Cleveland, OH (near Bridge Street).
Both the 4-mile and 10-mile routes will pass through five Cleveland council wards, ending at Market Garden Brewery—where participants will receive a complimentary beverage. Minor bike repairs will be available onsite.
Cleveland's Bike Awareness Ride is a collaborative effort between many stakeholders, including Council Wards 3, 12, 13, 14 and 15; the Second District Cleveland Police; Bike Cleveland; Nano Brew and Lutheran Hospital Community Outreach.
Don't forget to bring your helmet and a bike lock!
Visit bikecleveland.org for route maps and more information.