Massive IVC Filter Study Underway
Posted in Drug & Medical Devices on February 8, 2016
The Surgeon General estimates about one half million Americans are affected by blood clots annually and between 100,000 and 180,000 people die of pulmonary embolism (PE), a blood clot that travels to the lungs. To combat this problem, doctors implant hundreds of thousands of Inferior Vena Cava (IVC) filters inside patients each year to stop blood clots before they reach the lungs. Retrievable IVC filters have been reported to cause serious injuries if left in the body too long, however some physicians fail to remove the filters once the threat of pulmonary embolism has passed.
PRESERVE Study Investigating IVC Filter Safety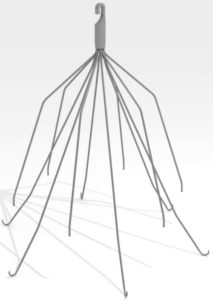 In August of 2010, the FDA issued a medical alert, warning that retrievable IVC filters can move or break, causing serious injuries, prompting researchers to begin investigating the devices. In 2014, the FDA issued an updated safety communication and in 2016, a study entitled, Predicting the Safety and Effectiveness of Inferior Vena Cava Filters (PRESERVE) began enrollment. The IVC Filter Study Group Foundation, sponsored jointly by the Society for Vascular Surgery (SVS) and the Society of Interventional Radiology (SIR), oversees the project. Over the course of the five-year study, 2,100 patients are expected to participate through 60 different medical sites around the U.S. 
"Our foremost commitment is to patient safety, and this study will help determine how well filters prevent pulmonary embolism and how they function over the course of their implantation," said Matthew S. Johnson, Fellow of the Society of Interventional Radiology and professor of radiology and surgery at Indiana University School of Medicine.
According to the PRESERVE website, the study is unusual because, "More typically, studies follow one or two devices. Studying filters produced by seven different manufacturers at once is an enormous undertaking. The trial will follow 300 patients per device."
Participating Manufacturers:
ALN Vena Cava Filter – ALN Implants Chirurgicaux
Option™ Elite Retrievable Vena Cava Filter – Argon Medical Devices, Inc. (designed and manufactured by Rex Medical)
VenaTech® LP Vena Cava Filter – B. Braun Interventional Systems Inc.
Cook Günther Tulip Vena Cava Filter – Cook Incorporated
DENALI® Vena Cava Filter System – CR Bard Peripheral Vascular, Inc.
Cordis OptEase® Retrievable Vena Cava Filter – Cordis Corporation
Cordis TrapEase® Vena Cava Filter – Cordis Corporation
Crux® Vena Cava Filter System – Volcano Corporation
"The treatment of deep vein thrombosis in trauma patients has challenged physicians to know the best way to take care of those patients," said co-principal investigator Dr. David Gillespie, chief of vascular and endovascular surgery at Southcoast Health System, Fall River, Mass. "There are a lot of devices from different manufacturers to choose from. Physicians have been using the retrievable filters with the idea they will retrieve them, but for many reasons they often don't.
IVC filter lawsuits  
Patients from across the country who were harmed by IVC filters have begun to file lawsuits against device manufacturers, seeking compensation for their injuries. Sadly, some family members of IVC filter patients filed a wrongful death claim as a result of the dangerous device.