Manufacturer of surgical robot warns device may cause internal burns
Posted in Drug & Medical Devices on May 13, 2013
Intuitive Surgical, maker of the daVinci Surgical Robot System, has released an "urgent medical device notification" alerting hospitals that the device could potentially cause internal burns to patients during surgical procedures.
The notification, sent on May 8, warns that micro-cracks may develop in the da Vinci's Monopolar Curved Scissors, creating links that may "create a pathway for electrosurgical energy to leak to tissue during use and potentially cause thermal injury." The company said it would notify customers as soon as scissors "without the potential for micro-cracks are available for replacement."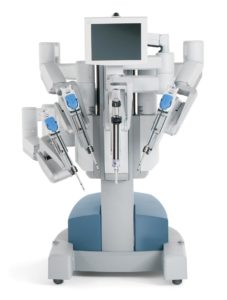 Intuitive is facing a lawsuit in Washington, alleging the medical device maker failed to properly train surgeon Scott Bildsten, who performed a robotic prostate removal on Fred Taylor, who allegedly died as a result of the surgery four years later. The lawsuit, the first da Vinci lawsuit to go to court, alleges that errors made during the surgery resulted in injury to the victim, including stroke, kidney failure and infection, that later resulted in his death. Dozens of other lawsuits are also pending, alleging injuries caused by the robot.
As we reported last month, the U.S. Food and Drug Administration is taking a closer look at the daVinci after a spike in reported problems. At least five deaths since early last year have been attributed to the device. More than 300,000 robotic surgeries were performed in 2012.
Medical devices should be used to make procedures easier and safer. When they injure patients, steps need to be taken to make sure the device is pulled off the market before more injuries or deaths occur.
The medical device injury lawyers of Elk & Elk are actively investigating cases involving the da Vinci Surgical Robot System. Injuries reported include:
Burns and/or tears of the intestines
Punctured blood vessels or ureters
Severe bowel injuries
Vaginal cuff dehiscence
Excessive bleeding
Death
If you or a loved one have been injured by the device, you need an experienced attorney fighting for your rights. Call 1-800-ELK-OHIO today or fill out our free, no-obligation online consultation form.