Is your vehicle one of 3 million with an airbag recall?
Posted in Accident & Injury, Product Liability on April 15, 2013
Last week, we told you about three recalls announced by Chrysler in the same day. Those recalls affected a total of 247,000 vehicles.
Now, four Japanese automakers are recalling 3.4 million vehicles worldwide because airbags on the passenger's side could catch fire and injure passengers. The airbags, manufactured by Takata Corp., were included in cars made by Toyota, Honda, Nissan and Mazda.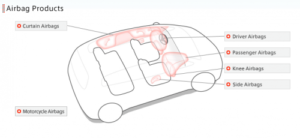 The recall affects Toyota models Corolla, Tundra, Matrix, Sequoia and Lexus SC produced between November 2000 and March 2004. Honda is recalling 2001-2003 Civics, 2002-2003 CR-Vs and the 2002 Odyssey. Nissan models affected include the 2000-2004 Maxima, Infiniti FX, Infiniti QX4, Nissan Pathfinder and Nissan Sentra. Mazda is recalling 45,000 of its RX-8 and Mazda 6 cars.
In addition, a small number of vehicles made by BMW and General Motors are also affected.
According to Takata, in an accident, the airbag for the front passenger seat may not inflate correctly because of a manufacturing defect in the propellant used to inflate the airbag. As a result, there is a risk of fires starting or of passengers being injured by metal fragments shooting up toward the windshield or down into the passenger foot well.
The automakers said they would inspect the air bag inflators and replace them if necessary at no cost to owners.
At Elk & Elk, we have seen too many times the injuries and deaths that result from manufacturing mistakes involving recalled vehicles. If you or a loved one have been injured as the result of a recalled vehicle, you need an experienced personal injury attorney.
Call 1-800-ELK-OHIO today or fill out our no-obligation online consultation form.