Top Holiday Driving Hazards
Posted in Accident & Injury on December 21, 2015
Driving when you're impaired or distracted is always dangerous – but add low visibility, the potential for ice and snow and the pressures that come with the holiday season, and December just might be one of the most dangerous months to be on the road. This year, avoid the four most dangerous holiday driving hazards.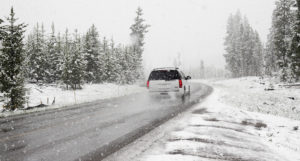 Read before you go: What to do if you get stuck in the snow
The four most dangerous holiday driving hazards 
1. Distracted Driving
Driving while using cell phones for both talking and texting holiday messages can put you and other drivers at risk. Pull over when using your smart phone to check out store hours and locations.
2. Drunk Driving
Holiday dinners and celebrations frequently include alcohol, and sometimes, even drugs. In 2014, 12,480 OVI-related crashes occurred on Ohio roadways. These resulted in 340 deaths and more than 7,000 injuries, according to the Department of Public Safety[1]. December was among the top months, with 1,104 impaired driving crashes. "This holiday season, give yourself the gift of a designated driver," urges Elk & Elk Managing Partner Arthur M. Elk. "If you plan on consuming alcohol, take a cab, designate a sober driver or use a ridesharing app like Uber or Lyft to help get you home safely."
"This holiday season, give yourself the gift of a designated driver."

 – Arthur M. Elk
3. Emotional Driving
Stress brought on by the holidays can be overwhelming and those emotions have a serious effect on our driving. If you are worried, upset, frightened, depressed or even feeling extremely happy, your driving skills can be as diminished as they would be if you were texting or intoxicated. Drivers often react to these pressures by driving too fast for conditions, making aggressive lane changes, failing to yield right-of-way and generally disregarding the needs and safety of others using the road.
4. Drowsy Driving
Busy schedules during the winter holidays can lead to insufficient sleep, warns Elk. "Drowsy driving can decrease your reaction time, impair your vision or judgment and can increase your chances of getting into a car crash."
Even if you take steps to avoid common holiday driving hazards, bad weather or the actions of other drivers may cause a traffic crash to occur. Make sure you have these essential winter items in your car at all times.
---
[1] Ohio Department of Public Safety. Ohio Traffic Crash Facts 2014. Columbus, 2015. http://www.publicsafety.ohio.gov/links/2014CrashFacts.pdf