Elk & Elk hosts Holiday Celebration for Cleveland community
Posted in Community Outreach on December 22, 2016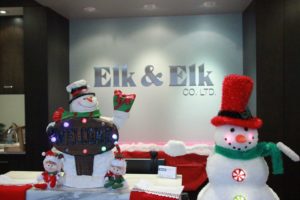 On Wednesday, Dec. 21, Elk & Elk welcomed members of the Cleveland community to the firm's W. 25th St. office for a Holiday Celebration.
The event was free and open to the public. Families were treated to visits and photos with Santa, refreshments, gifts and more. Senior Partner David Elk stopped by to celebrate the holidays with those in attendance.
Around 270 children received a toy from Elk & Elk thanks to the firm's attorneys and staff, who donated games, action figures, stuffed animals, sports equipment and a variety of other gifts in the weeks leading up to the event.
Elk & Elk was pleasantly surprised by the huge turnout at the 2016 Holiday Celebration, and hopes to make the event a tradition in years to come!
View more photos from the 2016 Holiday Celebration on the Elk & Elk Facebook page.