Hidden Ingredients in Food and Weight Loss Supplements
Posted in Health & Wellness on July 10, 2014
The Food and Drug Administration (FDA) is advising consumers not to purchase or use several weight loss products sold on various websites and in some retail stores. These fraudulent products can cause serious injury or even death.
"These products are masquerading as dietary supplements—they may look like dietary supplements but they are not legal dietary supplements," says Michael Levy, director of FDA's Division of New Drugs and Labeling Compliance. "Some of these products contain hidden prescription ingredients at levels much higher than those found in an approved drug product and are dangerous."
Sibutramine
According to the FDA, some foods and dietary supplements marketed for weight loss contain sibutramine, a controlled substance that was removed from the market in October 2010 for safety reasons. The products pose a threat to consumers because sibutramine is known to substantially increase blood pressure, pulse rate and may present a serious risk for consumers with a history of coronary artery disease, congestive heart failure, arrhythmias, or stroke. These products may also cause deadly interactions with medications you may be taking.
Dangerous products
Sliming (sic) Diet By Pretty White is marketed as a weight loss supplement. The manufacturer claims the capsules can "decompose extra fat and reduce weight" and that "it also nourishes the skin, beautify and whiten skin and make the skin more elastic."
Lipo 8 Burn Slim is touted as a "slimming pill from Switzerland." Its manufacturer claims the pills can help consumers lose up to 8 kg (17 lbs.) a month and that it "acts as an active cholesterol & fat burning agent."
24 Ince, an instant coffee, claims to aid in weight loss by "reducing glucose, fats and cholesterol level" in the bloodstream.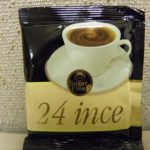 Trim-Fast Slimming Softgel is marketed as a miracle pill, which promises to suppress one's appetite, reduce fat accumulation, "release fat reserves" and even prevent wrinkles by "accelerating the metabolism of the skin, delaying the aging thereof."
Mix Fruit Slimming promises to be a "100% Natural Herbal New Slimming Pill Without Any Side Effects. Rapidly, fat eliminating, abdomen smoothing, and thigh slimming."
Lingzhi Cleansed Slim Tea is widely available on the internet. Advertisements indicate the tea will help with weight loss by speeding up metabolism, "repress sugar absorption," "treat constipation," remove toxins, and even treat bad breath.
Sadly, these are just a handful of products among hundreds of supplements and conventional foods found to contain undeclared ingredients. The FDA has begun compiling a list of tainted supplements, but it is far from complete.