Helmet technology reduces bicyclists' injury risk
Posted in Health & Wellness on July 10, 2018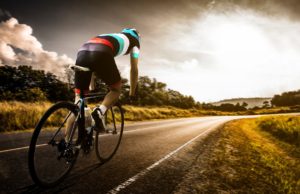 We all know that helmets save lives, but have you ever considered how the particular design of a helmet may impact its performance in the event of a bicycle accident?
A new study has determined big differences in the protection a helmet's design can provide against a concussion. New anti-concussion helmet technology may help protect cyclists from a wider range of head injuries.
Multi-Directional Impact Protection System (MIPS)
The MIPS helmet technology uses an inner friction layer located between the liner of the helmet and the user's head. The layer functions similarly to our own brain's protective structure by allowing the helmet to adjust slightly during an impact. While this helmet should still fit snugly on the user's head, the small flexibility that the MIPS layer provides helps reduce rotational force to the head in the event of an angled impact (the reality of most falls).
MIPS technology was pioneered by members of the Royal Institute of Technology in Stockholm, Sweden  in 2001. Since then, the technology has evolved and helped bicyclists around the world. The Royal Institute of Technology has partnered with BRG Sports, Rossignol, Scott, Smith, Triple 8 and others.
Safety standards for bike helmets
U.S. government standards for bike helmets don't currently test a design's ability to prevent a concussion. Without a requirement for anti-concussion helmet technology, injury risk to cyclist, skateboarders and BMX riders can easily increase.
For example, urban-style helmets have grown popular in recent years. Unfortunately, these helmets  tend to have a thin layer of foam that does not provide adequate protection upon impact. These types of helmets are more than twice as likely to result in injuries, according to the researchers from Virginia Tech and the Insurance Institute for Highway Safety.
If you've suffered injuries from a bicycle, skateboarding or BMX accident involving other parties, consider talking to a personal injury attorney.