Halloween Treats – Food Safety
Posted in Health & Wellness on October 1, 2013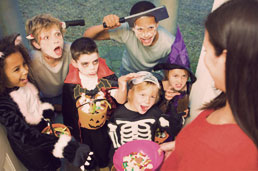 The stories have been around for decades: reports of razors, needles, poison, and even illicit drugs in kids' Halloween candy. Thankfully, they are largely urban myths. In fact, a 2010 news report stated, "there has never been a documented case of a stranger poisoning kids' Halloween candy."
That's not to say that parents shouldn't inspect their children's candy before they eat it – they should. The FDA still provides the following Halloween food safety recommendations:
Children shouldn't snack while they're out trick-or-treating. Urge your children to wait until they get home and you have had a chance to inspect the contents of their "goody bags."
To help prevent children from snacking, give them a light meal or snack before they head out – don't send them out on an empty stomach.
Tell children not to accept – and especially not to eat – anything that isn't commercially wrapped.
Parents of very young children should remove any choking hazards such as gum, peanuts, hard candies or small toys.
Inspect commercially wrapped treats for signs of tampering, such as an unusual appearance or discoloration, tiny pinholes, or tears in wrappers. Throw away anything that looks suspicious.
Halloween can be scary for parents of children with food allergies
In 2004, the Food Allergen Labeling and Consumer Protection Act was passed by Congress to ensure that there would be clearer labeling of food for the millions of people with food allergies. All food products regulated by the FDA must be labeled in a specific way to identify the eight major food allergens: milk, egg, fish, shellfish, tree nuts, wheat, peanuts and soybeans.
Many parents chose to provide alternate entertainment at home for their children with food allergies on Halloween. For those children who do go trick-or-treating, the American Academy of Allergy, Asthma, and Immunology (AAAAI) offers these helpful tips:
Never Go Alone. Always accompany younger children trick-or-treating and have older children go out with friends.
Inform Others. Make sure all the adults and friends in your group know about your child's food allergies and what to do in an emergency.
Pack Medication. While out for Halloween, make sure you or your child is carrying an epinephrine auto-injector. Make sure your child's friends or other adults know how to administer this medication.
Provide Safe Snacks. Provide your close neighbors and even your child's teacher at school with safe treats or even non-food items like stickers that can be given to your child.
Check the Goodies. Carefully read labels or check the candy company's Web site to make sure the product doesn't contain something that can cause an allergic reaction. It's important to remember that the ingredients of 'fun size' candy bars may differ from the regular-size bars.
When in Doubt, Throw It Out! If you can't find information on a treat's ingredients or are simply not sure if it's safe, then throw the candy away or stick it in a treat jar that is out of the reach of the child.
Despite parents' overwhelming concern over candy, it's not the biggest threat — kids are four times more likely to be struck by a car on Halloween
Source:
"Poisoned Halloween Candy: Trick, Treat or Myth?" by Robin Nixon, Live Science/Fox News, October 31, 2010.