Your Halloween contact lenses may be scarier than you think
Posted in Health & Wellness on October 25, 2013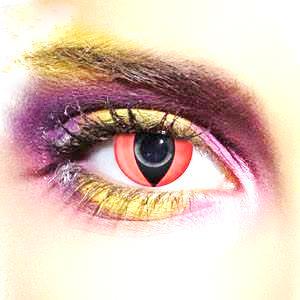 (Updated 10/15/2015) – Those eerie contact lenses you saw online might seem like the perfect addition to your Halloween costume, but decorative contact lenses may limit your vision and can cause permanent damage to your eyes.
Also known as cosmetic or theatrical lenses, decorative contact lenses are used to change the look of your eyes, not to correct vision. Available in a wide range of styles, they can simply change the color of your eyes or create fantastic effects, such as cat eyes.
Study: Decorative contact lenses contain dangerous chemicals
The American Academy of Ophthalmology issued a warning about over-the-counter decorative contact lenses after a recent study revealed that several varieties tested positive for chlorine and other harmful chemicals.
"One pair seeped chlorine after a routine rinse, prompting concern from researchers about toxicity to the eye," the ophthalmology academy wrote in a release. "The study also noted that colorants printed or pressed onto some decorative lenses create an uneven texture. Those rough surfaces could scratch the eyes, potentially allowing in bacteria that can cause infection and even blindness."
Novelty lenses can limit vision
Another study, published in the British Journal of Ophthalmology, showed that some colored lenses make it difficult to see, especially in low light. Vision exams indicated people wearing contacts with a limited clear, open space around the pupil had difficulty focusing. Objects at a distance became blurrier and contrast was diminished, making it difficult to spot dark objects at night or pale items against a light background.
Halloween contact lens safety tips
You should never buy any contact lenses from a street vendor, a beauty supply store, flea market, novelty store, Halloween store or online if the site doesn't require a prescription.
Wearing any contact lenses can cause serious damage to your eyes if the lenses are not used correctly. Decorative contacts can lead to eye pain, bacterial infections and corneal ulcers. One study found that the lenses increased by 16 times the risk of developing keratitis, a potentially blinding infection that causes ulcers in the eye.
Prevent Blindness Ohio offers the following safety tips regarding cosmetic contact lenses:
Always visit a licensed eye care professional to be fitted for cosmetic contact lenses.
Never buy contact lenses without a prescription.
Always clean and disinfect contact lenses according to instructions.
Always use water-soluble cosmetics or those labeled safe for use with contact lenses. Do not apply skin creams or moisturizers too close to the eyes.
Never wear opaque lenses if you have any problems with night vision.
Never share or trade your contact lenses with anyone.
Be watchful about your child's or teen's appearance. If they are wearing cosmetic contacts, question them about where they obtained them.
Feds seize illegal contact lenses
In 2013, the federal government warned consumers about the dangers associated with decorative contact lenses and began cracking down on illegal sales.
Contact lenses are actually medical devices and as such, are overseen by the U.S. Food and Drug Administration (FDA).[1] In an ongoing effort – dubbed "Operation Double Vision" – the FDA and Immigration and Customs Enforcement (ICE) officials are working to seize counterfeit contact lenses and illegally imported decorative lenses.
That same year, Ohio Attorney General Mike DeWine teamed with Prevent Blindness Ohio and the Ohio Optical Dispensers board to warn consumers about the dangers of decorative contact lenses.
"As we prepare for Halloween, we want to remind Ohio families that over-the-counter sales of decorative contact lenses are illegal," DeWine said. "Contact lenses are medical devices, and if they are not administered properly, they can cause serious eye infections that can lead to permanent damage, including blindness."
Buying Decorative Contact Lenses
You can buy contact lenses, including decorative contact lenses, from an eye care doctor, on the Internet or from a mail-order company. It's very important that you only buy contact lenses from a company that sells FDA-cleared or approved contact lenses and requires you to provide a prescription.
Anyone selling you contact lenses must get your prescription and verify it with your doctor. They should request not only the prescription, but also the name of your doctor and their phone number. If they don't ask for this information, they are breaking federal law and could be selling you illegal contact lenses.
Protect your eyes by having an eye exam, getting a prescription and buying contact lenses from a legal source.
For more information or to report the illegal sales of cosmetic contact lenses, contact the Ohio Optical Dispensers Board at (614) 466-9709 or www.optical.ohio.gov.
Editor's Note: This post was originally published in October 2013 and has been updated with new content.
Sources
Ji, Yong Woo, et al. "Comparison of Surface Roughness and Bacterial Adhesion Between Cosmetic Contact Lenses and Conventional Contact Lenses." Eye & contact lens 41.1 (2015): 25-33.
Jung, Ji Won, et al. "Effect of the pigment-free optical zone diameter of decorative tinted soft contact lenses on visual function." British Journal of Ophthalmology (2015): bjophthalmol-2015.
---
[1] On November 9, 2005, section 520(n) was added to the Federal Food, Drug, and Cosmetic Act (the Act) by Public Law 109-96 to establish that all contact lenses are devices under section 201(h) of the Act. Because all contact lenses are now regulated as devices, including decorative, non-corrective contact lenses intended only to change the normal appearance of the eye, all contact lenses must be the subject of a cleared premarket notification (510(k)) or an approved premarket approval application (PMA) before they may be legally marketed. Additional device authorities, such as the requirement that lenses be dispensed only upon a prescription order, also apply.