Give your family peace of mind with a living will
Posted in Probate & Estate Planning on May 1, 2013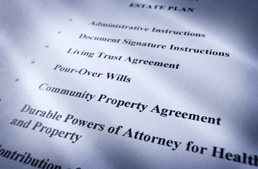 Experts estimate that only 40 percent of Americans have a living will. Last month, we asked our readers if they had a living will, and their responses fell within that estimate – at 43 percent.
A living will is a very powerful and important document that will help make sure your wishes are followed if you become incapacitated, and it can also help your family members who will be faced with some very serious decisions.
What is a living will?
A living will is a legal document that you can use to make your wishes known regarding life prolonging medical treatments. You may also hear them referred to as an advance directive, health care directive, or a physician's directive.
A living will should not be confused with a living trust, which is a mechanism for holding and distributing your assets to avoid probate.
Generally, a living will describes certain life-prolonging treatments. You indicate which treatments you do or do not want applied in the event you either suffer from a terminal illness or are in a permanent vegetative state.
Why do you need a living will?
"Everyone should have a living will," said Elk & Elk attorney Amy Papesh. "Through a living will, you can express your wishes to your physician about the use of life-sustaining treatments and organ donation. This document ensures that your medical care wishes are met in the event that you are permanently unconscious or terminally ill. You are not doing your family any favors if, when you become terminally ill or permanently unconscious, you force them to make end of life decisions that you could have made yourself."
When does a living will take effect?
A living will does not become effective unless you are incapacitated. Until then, you'll be able to say what treatments you do or don't want. Usually, certification is required by a doctor that you are either suffering from a terminal illness or are permanently unconscious before they become effective. For example, if you suffer a heart attack, but do not have a terminal illness and are not permanently unconscious, a living will does not have any effect. You would still be resuscitated, even if you had a living will indicating that you don't want life prolonging procedures. A living will is only used when your ultimate recovery is hopeless.
For situations where you are incapacitated and can't speak for yourself, but your health is not so dire that your living will becomes effective, you should have a health care power of attorney or health care proxy. A health care power of attorney is a legal document that gives someone else the authority to make health care decisions for you.
It is important that you communicate carefully with everyone who may be involved in making decisions for you in the event that you are incapacitated. Check with them to make sure that they are fully aware of the contents of the document and understand what your wishes are. If they don't know you have a living will, there is no way for it to be effective. Be sure to communicate and explain the document to all necessary parties, including doctors, nurses, family and/or friends.
Do I need a lawyer to write a living will?
The requirements for a living will vary by state, so you may want to have a lawyer prepare your living will. Many lawyers who practice in the area of estate planning include a living will and a health care power of attorney in their package of estate planning documents. If you need to write or update a will or trust, you can take care of your living will at the same time.
In Ohio, it is free to create a living will. You can download the necessary documents, fill them out and have them notarized.
If you need assistance with the documents or have other questions regarding estate planning, please contact the experienced attorneys of Elk & Elk today at 1-800-ELK-OHIO.