Garage Sales – what you need to know
Posted in Accident & Injury on July 30, 2013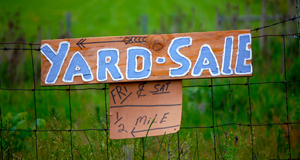 Summer time is the peak season for garage sales. Kids and grown-ups alike have fun rummaging through their neighbor's castoffs – hunting for a bargain or "new" treasure. But did you know when planning a garage sale, there are some very important legal issues to consider? Taking these simple steps before you host a garage sale may help prevent a great deal of legal problems down the line.
Check local permit requirements
Many cities require residents to purchase a permit (usually for around $5.00) before conducting a "home sale" – a sale of personal property to the public which is conducted on residential property. Local ordinances also may set parameters on things such as advertising (especially the placement of signs), hours of operation, the type of merchandise permitted, and the number of garage sales permitted each year. If you are part of a home owner's association, there may be additional regulations that must be followed.
Insurance
Check with your insurance agent or company representative to be sure you have enough liability insurance to protect your assets in case you're sued. Most standard home and renters insurance policies will generally provide at least $100,000 of liability coverage. This coverage pays for both the cost of defending you in court and court awards for damages —up to the limit of your policy.
Most standard homeowners or renters policies have "no-fault medical coverage" as part of the liability protection. This coverage allows someone who gets injured on your property to simply submit his or her medical bills to your insurance company without having to file a lawsuit. However, most policies only include about $1,000 to $5,000 worth of this type of coverage.
Depending on your property value, you may want to consider raising your liability coverage to at least $300,000 to $500,000. If you need more coverage, excess liability or umbrella coverage can provide additional protection and won't cost you more than $350 a year for $1,000,000 worth of coverage. 
The Insurance Information Institute offers the following guidelines for different types sales:
One Time Event: Yard sales that are one-time events for the sole purpose of selling unwanted personal items are generally covered under a standard homeowners or renters policy. However, it is important to have enough coverage, so be sure to check with your insurance agent or company representative.
Frequent Yard Sales: If you have frequent yard sales, it is a good idea to purchase a separate policy for business liability or an in-home business policy. These policies are available from many homeowner's insurance companies and specialty insurers that sell stand-alone in-home business policies.
Charity Fundraiser: If you are staging a sale to raise money for a charity, you will most likely be covered under your homeowners or renters insurance policy. But you can also contact the charity to see what type of insurance protection they would be willing to extend to you if necessary.
Plan your sale with safety in mind:
Repair loose railings and cracked concrete which may cause injuries.
Place sale items so that there is enough space to move about without tripping.
Avoid placing items too close to stairs and ledges where people could fall.
Keep sharp objects such as knives and scissors out of the reach of children.
Do not sell items that you know are unsafe or hazardous including recalled items.
Keep your pets safely indoors during the sale, both for their safety and to avoid someone getting hurt. Some dog breeds can become very protective when there are several strangers on their property.
If someone does get injured, make sure that you get them medical attention as soon as possible.
The resale of recalled items is against the law
The Consumer Product Safety Improvement Act (CPSIA) of 2008 made it illegal to resell recalled or other dangerous children's items. Used car seats, old cribs, second-hand bike helmets, and even outdated children's coats can pose risks. Check the Consumer Product Safety Commission's Web site www.cpsc.gov/ for product recalls before hosting a garage sale. Car seats can be checked at www.nhtsa.gov/.
Taxes
As a general rule, you don't have to pay taxes on items you sell at your occasional garage sale. The IRS assumes you're selling household items you bought and used for personal use and you're selling them for less than what you paid for them. However, you can't take a deduction for any losses, either. If you frequently sell items at garage sales or make profits on items, talk to a tax attorney or another tax professional to make sure you avoid problems with the IRS.