Elk + Elk's Amy Papesh to Present at National Business Institute Seminars
Posted in Probate & Estate Planning on November 8, 2021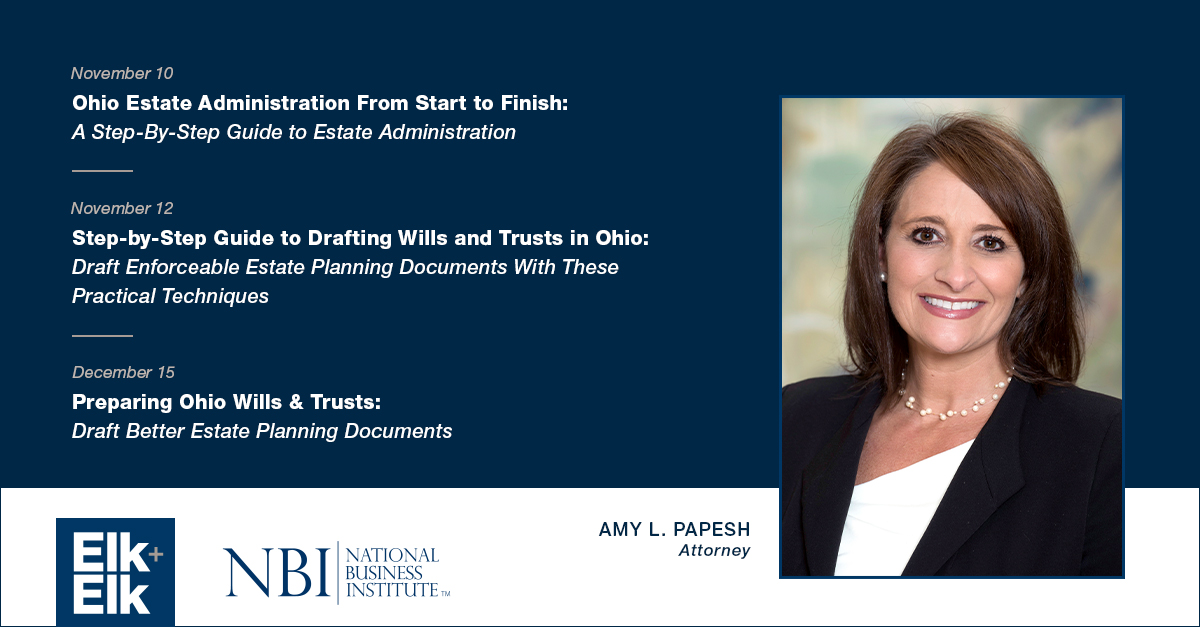 Elk + Elk attorney Amy Papesh will provide valuable insights at several upcoming National Business Institute online seminars. The seminars will cover the most effective estate planning procedures and strategies, drafting wills and trusts in Ohio, and drafting better estate planning documents.
Ohio Estate Administration From Start to Finish: A Step-By-Step Guide to Estate Administration
Wednesday, November 10, 2021  |  8:30 AM – 4:10 PM
Amy will cover how to handle creditor claims and debt. Topics include:
Sample Forms and Required Notices Needed
Priority and Payment of Claims
Late Claims and Contested Claims
Steps to Ensure all Debt is Located and Handled Correctly

What if the Assets Don't Cover the Bills?
Bankruptcy and Foreclosure

Selling of Assets and Properly Dealing with Creditors
---
Step-by-Step Guide to Drafting Wills and Trusts in Ohio: Draft Enforceable Estate Planning Documents With These Practical Techniques
Friday, November 12, 2021 | 9:00 AM – 4:30 PM
Amy will cover the key elements of effective wills. Topics include:
Establishing Statutory Framework
Types of Wills
Verifying and Documenting the Testator's Competency
Beneficiary Designations in Retirement Plans and Life Insurance
Pension Distributions During and After Life
Titling Assets
Designating Fiduciaries
Planning for Disabled Children
Sample Will Verbiage
Sample Forms
Updating Will Documents
---
Preparing Ohio Wills & Trusts: Draft Better Estate Planning Documents
Wednesday, December 15, 2021 | 1:00 PM – 3:15 PM
Amy will cover drafting documents with a discussion of sample will and trust language. Topics include:
Client Intake
Asset Inventory
Beneficiary Designations
Fiduciary Selection, Removal, Duties
Distribution Provisions
Special Provisions
---
About Amy L. Papesh
Elk + Elk attorney Amy L. Papesh focuses her practice on the areas of estate planning, estate administration and guardianships. She heads Elk + Elk's Probate Division, and enables the firm to tend to all client probate or estate needs in-house. In addition, Papesh has lectured for the Ohio State Bar Association, the National Business Institute, and various local professional groups and organizations on estate planning and administration issues.