Elk & Elk Sponsors Kyrie Irving ProCamp
Posted in Community Outreach on July 30, 2015
Elk & Elk sponsors annual Kyrie Irving ProCamp

On July 25 and 26, Elk & Elk sponsored the annual Kyrie Irving ProCamp at Mentor High School.
The sold-out event attracted nearly 600 boys and girls in grades 1 through 12. Participants were divided into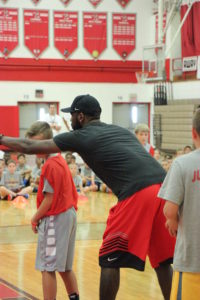 smaller groups according to age to maximize their instruction time.
Top high school and college basketball coaches from around the area were recruited to lead the teams, and Irving interacted with campers during drills, games, contests and other activities. Those in attendance received an autograph, a limited edition t-shirt and a team photo with Irving.
On the second day of the camp, participants had the opportunity to hear from former coach and NBA analyst Mike Fratello, who coached at the professional level for teams including the Memphis Grizzlies, Atlanta Hawks and Cleveland Cavaliers.
Irving, All-Star point guard for the Cleveland Cavaliers, fractured his kneecap during Game 1 of the 2015 NBA Finals. He was recently cleared by doctors to resume putting pressure on the knee and working out, and will be focusing on his recovery in the coming months.
Visit our Facebook page to view more photos from the event.
About ProCamps:
ProCamps is an event management and sports marketing company based in Cincinnati, Ohio. ProCamps works with professional athletes and coaches from the NFL, NBA, MLB, NHL, MLS, PGA and various other leagues to coordinate youth sports camps, appearances and unique fans experiences. Visit the ProCamps website for more information.