Elk & Elk partners with hunger center, radio host to battle hunger
Posted in Firm News on November 7, 2012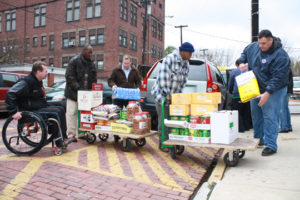 Everyday across the country, millions of Americans battle hunger. It's a battle no one should have to fight. That's why the Ohio attorneys at Elk & Elk are privileged to be able to help some Cleveland-area residents win that battle.
On Wednesday, Nov. 21, members of the Elk & Elk family will be loading up a trailer full of turkeys and food and traveling to the St. Augustine Hunger Center in Tremont.
This is the eighth consecutive year Elk & Elk has partnered with Cleveland sports radio host Mark "Munch" Bishop to help stock the hunger center for the year to come. Bishop, who started the annual food drive in 1990, will be broadcasting live from the center to help raise awareness of the food drive.
From 5 a.m. to 9 p.m. on Nov. 21, the hunger center will be accepting food and monetary donations at its Tremont home – donations that will keep the center feeding three meals a day for the next year.
"The help that we get each year is so important for us to keep this hunger center going. Without it, I could not do it," said Sister Corita Ambro, director of the hunger center.
"We take each dollar that comes in and stretch it as far as we can so that we can provide meals for these people every single day," said Sister Corita. "If you give us $10, we can feed at least 100 people with that." She said that the center serves up to 250 people at each meal.
This year, every dollar you donate to the hunger during the food drive will go even further. Elk & Elk will match every dollar donated up to $12,000.
"Without the support of the Cleveland community, we wouldn't be where we are today. It's important for us to give back to the community and take care of the less fortunate members of our community," said Elk & Elk managing partner Arthur Elk.
Hunger center volunteers cook and carve 50 turkeys a day from Oct. 1 through Thanksgiving day to prepare the thousands of turkeys that will be used on Thanksgiving day.
On Thanksgiving day, more than 17,000 poor and homeless residents of the Greater Cleveland area will be fed by food from the hunger center. Sister Corita says she shares the turkeys with 17 soup kitchens and pantries across the area.
To learn more about how you can help the St. Augustine Hunger Center fulfill its mission to feed Cleveland's hungry, visit its website at www.staugustine-west14.org or call the parish at 216-781-5530.
The center is located in Cleveland's Tremont neighborhood at 2486 W. 14th St.