Elk + Elk Managing Partner Jay Kelley Coaching at Top 40u40 Bootcamp
Posted in Firm News on March 1, 2022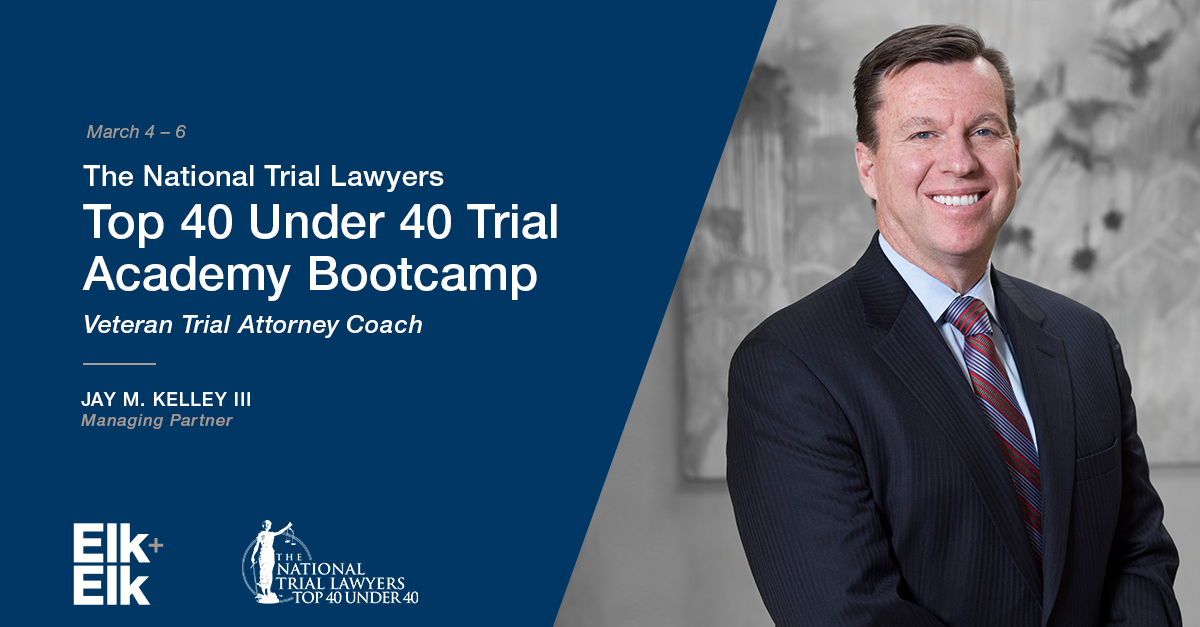 Elk + Elk Managing Partner Jay M. Kelley will serve as a coach at The National Trial Lawyers Top 40 Under 40 Trial Academy Bootcamp. The entire weekend is dedicated to an interactive experience designed to build confidence within the courtroom.
Top 40u40 Bootcamp
Friday March 4 – Sunday March 6, 2022
Gaylord Rockies Resort and Convention Center
Denver, Colorado
This bootcamp comes with a limited attendance of only 50 people allowing for an intense workshop throughout the seminar weekend. Attendees will have the opportunity to hear and learn from experienced lawyers on how to become the best trial lawyer they can possibly be. The three-day seminar is approved for earnings of 16+ Continuing Legal Education (CLE) credit hours.
Weekend Activities
Discussions
Breakout sessions
Mock Voir Dire
Networking Events
Panel Presentations
About Jay M. Kelley
Elk + Elk managing partner Jay M. Kelley focuses on civil trial work in state and federal courts. His practice areas include medical negligence and/or wrongful death arising from birth injury, maternal death, surgery, oncological, cardiac, trucking, auto, and pharmaceutical causes. He has presented well over 80 cases to juries and has been the lead counsel on cases in more than 30 counties.
Jay has been recognized as an Ohio Super Lawyer since 2009, has been included in The Best Lawyers in America for Medical Malpractice Law and Personal Injury Litigation since 2016, and was awarded 2021 Cleveland "Lawyer of the Year" for Medical Malpractice Law.