Elk & Elk Goes Green
Posted in Community Outreach, Health & Wellness on October 8, 2015
Elk & Elk Co., Ltd. is proud to announce its designation as "Green Certified" through the CMBA Green Initiative Certification program for the years 2015-2017.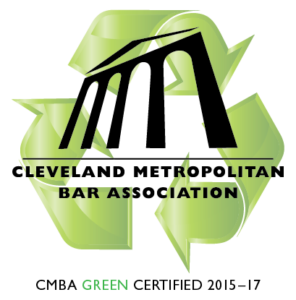 On October 2, 2015, Elk & Elk was among more than 40 law firms and offices recognized as "Green Certified" during the David Webster Greener Way to Work luncheon, hosted by the Cleveland Metropolitan Bar Association (CMBA).
"Elk & Elk is grateful to be recognized for adopting environmentally sound business practices," said Dawn Urban, Green Administrator for Elk & Elk. "We applaud the CMBA's efforts and are proud to join our fellow Green Certification recipients, making a difference in our community by recycling and reducing energy consumption."
CMBA Green Initiative
The CMBA's Green Initiative was the brainchild of the late David Webster, a well-regarded Cleveland attorney and environmentalist. In his memory, the Green Initiative Committee (GIC) presents the annual David Webster Greener Way to Work Week, encouraging members of the legal community to find greener ways to commute to work. The GIC also hosts the Greener Way to Work luncheon, which recognizes area law firms, offices and legal support organizations for their commitment to protecting the environment.
During the luncheon, Michelle Cook, the 2015 GIC Chair, thanked the attendees for practicing efficient energy use. "Everything we do has an impact, be it large or small," said Cook. "Even if you are only one person, you have the power to enact change. Every tiny decision you make is like a brick, and brick by brick, a whole house is built. Together, the Cleveland legal community is coming together person by person, firm by firm, and together we are making big changes."
Keynote speaker, Colby Sattler of the Western Reserve Land Conservancy, presented eye-opening statistics and information about the need to Reforest Our City. He shared practical solutions for businesses and individuals to help restore Cleveland's once lush urban forest, which earned it the moniker, "The Forest City."
Elk & Elk recognized as

Green Certified
To qualify as CMBA Green Certified, Elk & Elk was required to demonstrate that the firm is in compliance with the established criteria below.
A.  Paper Reduction – A commitment to 2 of the following 4 efforts to reduce per capita paper use:
Purchasing office paper with at least 30% recycled content
Using double-sided copying and printing, at least for drafts and internal documents
Recycling discarded office paper
Purchasing office paper only from paper manufacturers with sustainable forestry management practices
B.  Energy Reduction – A commitment to reduce office energy use by 10% in the first year of certification
C.  Recycling Program – Must have or form a firm/office program for recycling glass, plastic and e-waste products (toner cartridges, computers, etc.)
D.  Internal Green Committee – Must have or form a firm/office Green Committee or designated administrator to implement the program, interface with the CMBA, and generally encourage environmentally-responsible practices among staff.
Tips for going

Green
The CMBA's Green Initiative Certification program promotes green practices for adoption by law firms, small law offices, solo practitioners, and legal departments of other businesses. However, any business can reduce, recycle and reuse to help our environment.
The CMBA Green Initiative Committee suggests the following activities to save energy:
Turn off lights, computers, copiers, printers, and other equipment when not in use
Replace incandescent or halogen lamps with compact fluorescents (CFT)
Use day lighting as much as possible, instead of lights
Enable power-down management software on networked computers
Make sure screensavers are used
Upgrade the ambient fluorescent lighting system by replacing the T12 lamps with more energy-efficient T8 or T5 systems and upgrade exit signs to use light-emitting diode (LED) lamps
Use automatic lighting controls such as dimming systems that reduce light when natural daylight is available; and occupancy and motion sensors for, among other things, conference rooms, kitchens, storage rooms, and restrooms. Consider occupancy sensors that power down computer equipment, task lights, and other plug load equipment
Educate cleaning crews to shut off miscellaneous items such as office lights, coffee pots, and other equipment when not used
But going green is hard, right?
Remember, the decision to go green doesn't have to be an "all or nothing" proposition—every little bit helps. As the ancient Chinese philosopher, Lao Tzu, once said, "A journey of a thousand miles begins with a single step." So, come on! Take that first step and walk with us on our journey to a greener planet.