Elk & Elk discusses $8.3 million awarded against DePuy for a faulty replacement hip
Posted in Drug & Medical Devices on April 2, 2013
For years, Johnson & Johnson and its subsidiary DePuy have been under intense scrutiny regarding their faulty ASR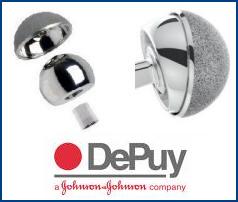 artificial hips. The metal-on-metal design was blamed for causing pain and tissue damage and resulted in a high rate of revision surgeries. Johnson & Johnson had denied any blame and had refused to compensate patients. A recent verdict will be the first step in holding the company responsible for its actions. Elk & Elk is representing a substantial number of plaintiffs with these DePuy hips.
A jury awarded a man $8.3 million in damages in the first of more than 10,000 lawsuits pending against the medical device manufacturing giant. The jury ordered Johnson & Johnson to pay $338,000 to cover the plaintiff's medical expenses and $8 million to cover his pain and emotional suffering. The jury did not order any punitive damages.
The verdict is a big win for the thousands of patients who have suffered needlessly because of the ASR hip replacements, said Elk & Elk Managing Partner Arthur Elk. "This verdict sends the message that Johnson & Johnson, and other companies like them, cannot get away with putting profits over patient health and safety," Elk said.
The plaintiff suffered metal poisoning after excessive metal debris flaked off his DePuy ASR hip implant into his body. Experts at the trial, which took place at the Los Angeles Superior Court, said the metal entered the blood and surrounding tissues because of the ASR's faulty design.
The implant, known as the Articular Surface Replacement, or ASR, was recalled in mid-2010. The ASR belongs to a class of hip replacements whose cup and ball components were both made of metal. The ASR's design caused the cup and ball to rub against each other as a patient moved, resulting in the shedding of metallic debris. That metallic debris inflamed and damaged tissue and bone, causing pain and permanent injury.
A second trial has started in Chicago, where a 54-year-old woman claims that her ASR XL hip replacement device was defective. She had the all-metal device implanted in 2008, and it had to be replaced three years later.
This verdict sets a strong precedent. It would have been nice to see the company take responsibility before, but now some justice has been achieved.
The product recall attorneys of Elk & Elk have years of experience holding medical device manufacturers accountable. If you or a loved one were injured as the result of a metal-on-metal hip implant, call 1-800-ELK-OHIO or fill out our free online consultation form.