Elk & Elk attorneys help hunger center provide 17,000 meals for Thanksgiving
Posted in Firm News on December 6, 2012
Hunger is a problem 365 days a year, not just during the holidays. That's why Elk & Elk partners each Thanksgiving with Cleveland sports radio personality Mark "Munch" Bishop to help stock the pantry at the St. Augustine Hunger Center in Tremont.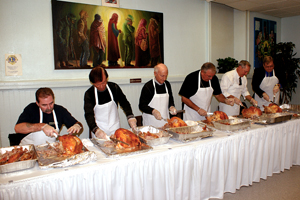 On Wednesday, November 21, 2012, for the eighth consecutive year, Cleveland attorneys Art and Dave Elk and the rest of the staff of Elk & Elk loaded up a trailer with food and pitched in to help collect donations during the 23rd annual food drive.
"I am so thankful for the support of Dave and Art and everyone at Elk & Elk," said Sister Corita Ambro, who has been the hunger center director for 42 years. "We couldn't do this without them."
This year, besides donating 400 turkeys to the hunger center to be used throughout the year and next Thanksgiving, Elk & Elk also made a matching donation for the first $12,000 in cash donations given to the hunger center.
"It's a pleasure for us to help out at the hunger center," said Elk & Elk senior Partner Dave Elk. "This is a very difficult time for them. But the wonderful people here do such a great job. It's our honor to work with them."
Throughout the day of the food drive, area residents pulled up in their vehicles and donated turkeys and other food products, doing their part to help keep the center running for the next year. An anonymous donor gave the center 35,000 pounds of meat, which the center will use to make their meals go even further.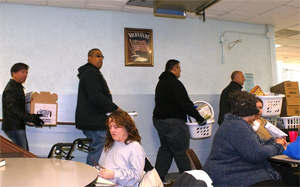 "It was more than a success," said Sister Corita, referring to the food drive. "Before the drive, our shelves were empty. Now, our shelves are filled to overflowing."
On Thanksgiving Day, the hunger center used the donations to serve more than 17,000 meals at St. Augustine and at 16 other shelters and centers across the Cleveland Area.
T.J. Ward and Joe Haden of the Cleveland Browns pitched in to help with the food drive for the second year, giving the food drive a boost with their star power and boosting the morale of the center's volunteers.
"We're blessed to be in the situation that we're in … and God has put us in this situation for a reason and we just have to give back anyway we can," Ward said.
"My hope is that their generosity, which has been wonderful, will be an example to other people to follow what these men have done," Sister Corita said.
The Thanksgiving food drive is St. Augustine's biggest event of the year for the Hunger Center. However, donations and community service are accepted and needed all year long. In addition to providing meals, the hunger center serves many other needs of the poor, including clothing, emergency funding for rent and utilities, furniture and appliances.
"We think about them during the holidays but anytime throughout the entire season that you can help, please do," Bishop said.
To learn more about how you can help the St. Augustine Hunger Center fulfill its mission to feed Cleveland's hungry 365 days a year, visit www.staugustine-west14.org or call the parish at 216-781-5530 and ask for Sister Corita.
The parish and Hunger Center are located in Cleveland's Tremont neighborhood at 2486 W. 14th St. Cleveland, OH 44113.
Click here to see a video about how you can help all year long.