Drivers Beware: It's Pothole Season
Posted in Accident & Injury, Automobile, Car Accident, In the news on March 4, 2020
"You know the potholes on a road are bad when they assign lifeguards to them, in case anybody falls inside." -Anonymous
From 2011 – 2016, pothole damage cost U.S. drivers $15 billion in vehicle repairs. According to a AAA survey, middle- and lower-income individuals worry most about potholes. Pothole damage can lead to pricey and widespread vehicle repairs.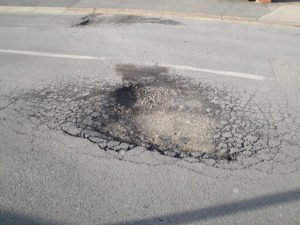 Pothole Damage

AAA published a list of common car repairs that can result from poor roads:
Tires
Tie rod
Wheel alignment
Control arm
Ball joint
Wheels
Shock/strut
"On average, American drivers report paying $300 to repair pothole-related vehicle damage," said Pat Moody, Director of Public Affairs for AAA Northern New England. "Adding to the financial frustration, those whose vehicles incurred this type of damage had it happen frequently, with an average of three times in the last five years."

AAA Recommendations

There are best practices to follow when navigating potholes.
Ensure your vehicle has a spare tire or a tire inflator kit.
Make sure your tires are properly inflated and have enough tread depth. Tires are the only cushion between a pothole and a vehicle.
Remain alert. Examine the road ahead and drive at least three seconds behind the vehicle in front of you.
Maintain safe speeds. High speeds make it harder to keep control of a vehicle (especially if potholes or uneven surfaces are present).
If you can't avoid a pothole: slow down, release the brakes and straighten the steering wheel.
Covering the Damage

Unfortunately, pothole-related claims filed with government agencies (cities, townships, municipalities, etc.) are typically rejected.
The right kind – and amount – of auto insurance could provide major out-of-pocket savings. In instances of pothole damage, collision insurance applies.
Collision coverage helps cover repair costs if you hit another vehicle or object. But, remember two important points. You are responsible for the deductible first and the claim will go on your insurance record.
Reimbursement Tips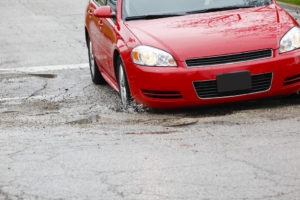 Document, document, document. Whether you're filing a claim through insurance or with a government agency, take lots of notes and pictures. The Balance lists four important steps:
Take a picture of the pothole at the time of the incident.
Take a picture of the damage to your vehicle.
Note the date and time of the incident.
Get at least two estimates.
If you've been injured in an automobile accident, our Ohio car accident lawyers are here for you. Request your free consultation today.