Dangers of Metalworking Fluids
Posted in Workplace Injuries and Claims on April 3, 2014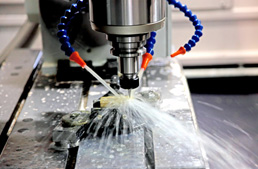 Metalworking fluids (MWFs) are used as coolants, lubricants and to remove metal particles during industrial machining and grinding operations. According to the CDC, over 1 million workers are regularly exposed to MWFs through skin contact or by breathing the mists and aerosols.
Many industries utilize Metalworking Fluids, including:
Automotive
Medical Device Manufacturing
Wire Manufacturing
Aerospace
Petrochemical
MWFs linked to serious injuries
Metalworking fluids may contain any number of additives, including biocides, which are used to kill bacteria. One of the most commonly used biocides is Triazine, also known as hexahydrotriazine or HHT. Once mixed with MWFs, Triazine releases formaldehyde, a known carcinogen. Formaldehyde can also speed up the formation of nitrosamines – chemical compounds that have been shown to cause cancer.
If you work or have worked with metalworking fluids, you are at risk for a wide range of debilitating health problems, such as:
Nasopharyngeal Cancer
Hypersensitivity Pneumonitis (HP)
Sinonasal Cancer
Pulmonary Edema
Lymphohematopoietic Cancer
Myeloid leukemia
Asthma and other serious respiratory conditions and cancers have also been linked to MWF exposure.
How much exposure is dangerous?
Contact with the toxins in MWFs can cause an immediate reaction, such as irritation of the skin, eyes, nose or throat. Other, more serious health issues can take years to manifest.
In 1998, The National Institute for Occupational Safety and Health (NIOSH) recommended a maximum exposure level of 0.4 milligrams per cubic meter of air. While some occupational exposure limits (OELs) are legally enforceable limits, others – like those for MWFs – are merely recommendations, which cannot be enforced.
Do I need a lawyer?
If you worked or are working in a machine shop, industrial plant or factory using Metalworking Fluids or Cutting Compounds and developed
Cancer
Chronic cough
Breathing problems
Leukemia
You may be entitled to money damages. Call 1-800-ELK-OHIO for a free case review today.