What can employees do about dangerous work conditions?
Posted in Accident & Injury, Workplace Injuries and Claims on June 24, 2016
A Cleveland-area manufacturer was recently hit with nearly $90,000 in proposed penalties after being cited for a variety of dangerous work conditions. Fifteen serious violations, one repeat violation and one other-than-serious violation were issued following inspections earlier this year. The Occupational Safety & Health Administration cited fall hazards, slippery work surfaces, lack of proper machine guarding and electrical safety hazards, among other violations.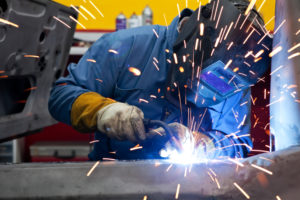 According to the Bureau of Labor Statistics, over 4,800 fatal work-related injuries occurred in 2014. Nearly 3 million nonfatal injuries or illnesses were reported in private industry workplaces throughout the same year. Employers are required by OSHA to eliminate known dangers in their facilities, provide employees with proper protective equipment and teach workers about hazards they may encounter.
Dangerous work conditions commonly investigated by OSHA include:
Fall Hazards
Falls from elevated platforms and work stations or into holes in facility floors are among the most common causes of death and serious injury in the workplace. Employers are required to use guard rails, toe-boards and any other means necessary to prevent workers from suffering these injuries.
Eye & Face Hazards
According to OSHA, thousands of employees are blinded each year by preventable workplace injuries. These incidents are often caused by chemical, environmental and mechanical hazards that could have been addressed with proper eye and face protection. Related expenses, such as worker compensation and medical bills, total around $300 million each year.
Respiratory Hazards
OSHA Respiratory Protection Standards require approximately 5 million employees to wear respirators in their workplace. Dust, smoke and vapors are among the threats to the respiratory health of these workers. Hundreds of deaths and thousands of illnesses could be prevented if all employers and employees followed OSHA's guidelines.
How do I file a complaint or request an inspection of my workplace?
If you believe there are serious health or safety hazards in your workplace, or feel your employer is not following OSHA standards to prevent dangerous work conditions, filing a complaint could prevent injuries or even save a life. OSHA keeps all complaint information confidential, and it is illegal for employers to retaliate against employees for exercising their right to a safe workplace.
Three Ways to File an OSHA Complaint
Download and fill out an OSHA complaint form. Fax or mail the form to your OSHA Regional or Area Office.
NOTE: Written complaints are more likely to result in onsite inspections.
If you have questions about health and safety in your workplace, email OSHA.
If you or a loved one suffered a serious workplace injury, call 1-800-ELK-OHIO for a free case review or fill out an online contact form.