Quick settlement helps client pay medical bills and realize her dream
Posted in Accident & Injury on February 8, 2013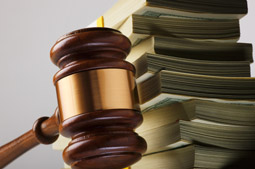 At Elk & Elk, we are focused on getting our clients and their families the maximum compensation they deserve. Sometimes a client has plans and dreams that go far beyond simple financial numbers. Elk & Elk attorney Gary Cowan recently was able to help his client pay her medical bills and make her dreams come true.
On June 8, 2011, Bessie DeVinney, 88, had attended her dialysis appointment and was being picked up by a taxi from Columbus Green Cabs. The driver of the taxi forcefully stepped on the accelerator as Mrs. DeVinney was attempting to sit down in the back seat. The driver lost control of the taxi and hopped over multiple curbs before coming to a stop in the parking lot of a nearby WalMart.
Mrs. DeVinney suffered multiple fractures including her ankle, nasal and compression fractures of two vertebrae. She spent five days in the hospital, before being transferred to a rehab unit, where she spent more than two weeks.
After nearly a year of no response from Columbus Green Cabs, Cowan filed suit against the company in May 2012 and the case went to mediation in September 2012. During a break in the mediation talks, Mrs. DeVinney told Cowan that all she wanted was to get enough money to pay her mounting medical bills from her hospital stay and rehabilitation and take her whole family on a trip to Niagara Falls. However, she was worried that the case would drag on so long that she would not live long enough to receive the money and take her family on the trip.
Cowan was able to get the company to agree to settle the case and Mrs. DeVinney received her money in October. She was able to pay all her medical bills and have enough left for her dream trip. She told Gary that she is planning on taking her trip in April. Mrs. DeVinney was very appreciative of all the hard work Gary and his team put in to helping her get the settlement she deserved in a timely manner.
At Elk & Elk, we believe strongly in getting our clients the results they deserve. We work hard to help our clients receive the compensation they need to pay their medical bills and get their lives back on track after a life-changing injury.  If you or a loved one has been injured, we will use our extensive resources and nearly 50 years of experience to help you. Call 1-800-ELK-OHIO today or fill out our online consultation form and find out how we can help you.