Cleveland Cavaliers fans join Elk & Elk in the fight against pediatric cancer
Posted in Community Outreach on April 21, 2017
In the two years since launching "Get That Weak Stuff Out of Here" with the Cleveland Cavaliers, Elk & Elk has donated more than $73,000 to Cleveland Clinic Children's to support the fight against pediatric cancer.
The campaign, which ties each shot blocked by the Cavs to a $100 donation from Elk & Elk to Cleveland Clinic Children's, raised $40,600 in its first season.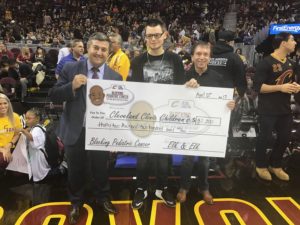 On April 12, Elk & Elk's Managing Partner Arthur Elk presented a check for $32,200 to Rabi Hanna, MD, of Cleveland Clinic Children's during the final game of the Cavs regular season.
The Cavs blocked seven shots in the game against the Raptors, bringing the firm's total donation for the 2016-17 regular season to $32,900. The tally will continue to grow as the Cavs "Defend the Land" during the 2017 NBA Playoffs.
Block Week Campaign Raises Over $1,500
This year, Elk & Elk expanded the campaign and challenged the team's loyal fan base to donate to the cause in order to earn entries for monthly giveaways and a grand prize drawing.
Between January and April, Elk & Elk tallied up the number of shots blocked by the Cavs during one designated "Block Week" each month. Fans were then asked to donate a minimum of $1 per blocked shot, and any fans who donated the qualifying amount were entered into the monthly drawing for a pair of lower bowl tickets.
A total of 57 shots were blocked over the course of the four Block Weeks, so any fans who donated $57 or more between January and April had a chance to win the Grand Prize of floor seats and a players' garage parking pass for the final game of the regular season.
More than 50 fans participated in the contests, donating a total of $1,517 by the conclusion of the campaign. Janice Ricker made the largest individual contribution of all of the Block Week participants, with donations totaling $140.
Funds raised by Elk & Elk's "Get That Weak Stuff Out of Here!" Campaign and Block Week Donation Contests support pioneering pediatric cancer research with the hope of discovering new treatment options for young patients.
Want to join our Cleveland personal injury lawyers at Elk & Elk, the Cleveland Cavaliers and Cleveland Clinic Children's in the fight against pediatric cancer? Donate to the "Get That Weak Stuff Out of Here!" Campaign!