Elk & Elk and Cavs go #ALLinORANGE for Hardwood Classics Nights
Posted in Community Outreach on December 7, 2016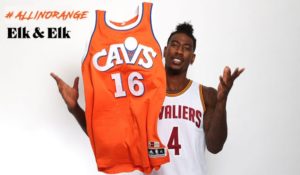 On Friday, Dec. 9, Elk & Elk kicks off the second annual Hardwood Classics Nights series in partnership with the Cleveland Cavaliers during their matchup against the Heat.
The team is turning back the clock and turning up the orange at six home games throughout the 2016-17 season. To pay homage to the teams of the 80s, led by legends including World B. Free, Ron Harper, Mark Price and John "Hot Rod" Williams, the Cavs will sport bright orange retro jerseys. Fans in attendance at the Hardwood Classics Nights games will be treated to commemorative in-game videos, music and entertainment.
As the presenting sponsor of the Hardwood Classics Nights series, Elk & Elk will host autograph sessions with Cavs legends during select games and offer opportunities for fans to win throwback jerseys and other Cavs prizes.
Learn how you could win a Cavs throwback jersey!
LIKE Elk & Elk's Facebook page or FOLLOW @elkandelk on Twitter for updates about upcoming giveaways and promotions. Fans are encouraged to join the conversation on social media by posting with the hashtags #ALLinORANGE and #CavsHWC.
2016-17 Cleveland Cavaliers Hardwood Classics Nights Presented by Elk & Elk
Friday, Dec. 9 vs. Miami Heat
Saturday, Dec. 10 vs. Charlotte Hornets
Wednesday, Jan. 4 vs. Chicago Bulls [Legends Autograph Session]*
Sunday, Jan. 29 vs. Oklahoma City [Postgame Fan Free Throws]
Tuesday, March 14 vs. Detroit Pistons [Legends Autograph Session]*
Friday, March 31 vs. Philadelphia 76ers
*Legends Autograph Sessions will be held in or around the Team Shop at Quicken Loans Arena.
Purchase your tickets today, and don't forget to wear your orange!
During the inaugural year of the series, Hardwood Classics Nights took fans back to the 70s to commemorate the 40th anniversary of the Miracle of Richfield and honor Cavs legends from the 1974-81 seasons. The team even shot a groovy intro video to celebrate!