ERs missing opportunity to inform parents about car seat safety
Posted in Accident & Injury on March 28, 2013
Emergency departments in hospitals can be doing much more to educate parents about car seat safety, according to a new study.
Although more than 130,000 children younger than 13 are rushed to hospital emergency rooms after being injured in a car accident each year, more than one-third of doctors are not sure if their emergency department has information on the proper use of child passenger restraints for these children's parents or guardians, the study found.
The study was conducted by researchers at the Department of Emergency Medicine at the University of Michigan's CS Mott Children's Hospital. Researchers found that less than half of the physicians responding to the study said that a parent of a 2-year-old being discharged after an accident would be given discharge instructions including advice about car seats.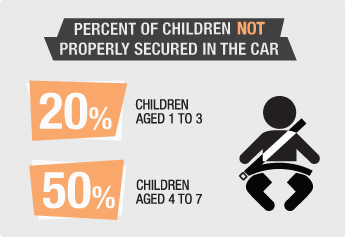 Approximately 20 percent of children aged 1 to 3 and almost half of 4- to 7-year-olds are not put in the proper car seat. That may be a big reason why motor-vehicle collisions continue to be a leading cause of death among children younger than 4 and the leading cause of death among older children.
According to the study, many children who visit an emergency department after a car accident are not receiving specialized pediatric care, which may explain why parents are not receiving information about car seat safety. The study found that less than 15 percent of children seeking emergency care are seen in an emergency department with specialized pediatric services.
Emergency room visits are a great opportunity for doctors to inform parents about child safety matters, including car seat safety. With so many children improperly secured and at-risk, emergency departments should make a simple flyer or brochure about car seat safety available for the ER doctors to hand out to parents. This simple step could make a big difference and save a lot of lives.
If you have questions about car seats, the National Highway Traffic Safety Association offers tips for what type of car seat to choose for your child and how to install car seats.