Elk & Elk challenges Cavs fans to join the fight against pediatric cancer
Posted in Community Outreach on January 20, 2017
During the historic 2015-16 season, Elk & Elk teamed up with the Cleveland Cavaliers to launch the "Get That Weak Stuff Out of Here!" Campaign. The firm pledged $100 to Cleveland Clinic Children's for each shot blocked by the team, resulting in a $40,600 donation to support life-changing research in the fight against pediatric cancer.
Block Week Contest
Elk & Elk hopes to expand the program's impact in 2017 by challenging Cavs fans to participate in a series of donation contests. Between now and the end of the regular season, the firm will tally up the team's blocks in games throughout designated "Block Weeks." At the end of each Block Week, fans are given the opportunity to earn entries for prize drawings by donating $1 per block to Cleveland Clinic Children's.
For example, if the Cavs block 15 shots during a given Block Week, a fan would need to make a donation of at least $15 to qualify for an entry. Fans may earn extra entries by making additional donations of the qualifying amount.
Win Tickets to a Cavs Game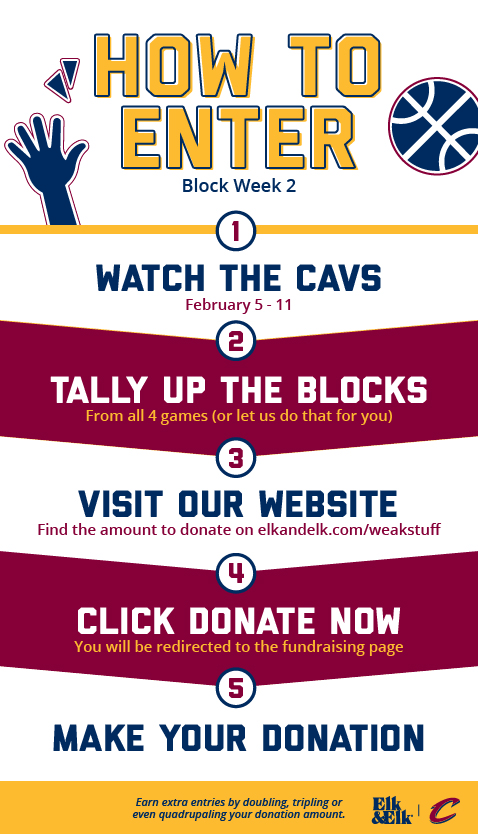 One lucky donor will be randomly selected each month to receive a pair of lower bowl tickets to an upcoming Cavs game. Any fan who makes qualifying donations after each of the four Block Weeks between January and April (four donations total) will be entered in a drawing for a pair of floor seats and players' garage parking pass for Cavs vs. Toronto Raptors on Wednesday, April 12.
The program kicked off on Jan. 8, and the Cavs blocked 14 shots during the first Block Week. Generous Cavs fans donated over $400 in the first round of Donation Days. The monthly ticket winner for January has already been selected, but fans are still welcome to make qualifying donations of $14 to be counted toward their Grand Prize entry.
All Cavs fans are encouraged to take this exciting opportunity to help Elk & Elk, the Cavs and Cleveland Clinic Children's block pediatric cancer.
Mark your calendars for the remaining Block Weeks and Donation Days:
Block Week #2: February 5-11
Donation Days: February 12-14
Block Week #3: March 12-18
Donation Days: March 19-21
Block Week #4: April 2-7
Donation Days: April 8-10