Ride Your Bike to Work Day
Posted in Health & Wellness on May 13, 2014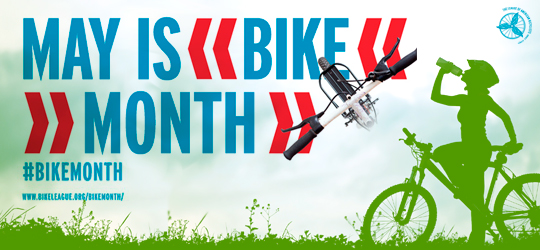 Who doesn't want to look better, feel better and save money? One simple decision can help you achieve all three: bike to work. To promote bicycle commuting, hundreds of communities throughout the nation are hosting Bike to Work Week and Bike to Work Day events in May.
Bike to Work Week is a voluntary commuter challenge started in 1956 by the League of American Bicyclists designed to encourage everyone throughout the US to ride their bicycles to and from work for one week out of the year. Each year in Ohio, the program becomes more and more popular and sees an ever-increasing number of participants.
According to the League of American Bicyclists, "More than half of the U.S. population lives within five miles of their workplace, making bicycling a feasible and fun way to get to work. With increased interest in healthy, sustainable and economic transportation options, it's not surprising that, from 2000 to 2011, the number of bicycle commuters in the U.S. grew by more than 47 percent."
There are dozens of Bike to Work events scheduled across Ohio – in major cities and small towns alike. If your hometown isn't listed below, check out www.bikeleague.org for activities near you.
Cleveland
Greater Clevelanders are encouraged to leave their car at home on May 16 and commute by bike. Bike Cleveland, the Heights Bicycle Coalition, University Circle Inc., The Bike Rack, and many others are partnering to host plenty of activities in the morning to help you on your commute to work, school or around the city. Go to http://www.bikecleveland.org/btwd/ for more information. Tweet your photos with the hashtag, #BTWDcle.
Columbus
Join Bike to Work Day in Columbus, on Friday, May 16 rain or shine by riding into downtown along one of seven pre-planned routes. Each group ride will end at Columbus Commons for breakfast, awards, booths, and networking at 8:00AM. Mayor Michael B. Coleman will ride with the group that has the most committed riders. Learn more and register at http://www.columbus.gov/B2W2014/.
Cincinnati/Newport, KY
The Queen City Bike club is hosting a full month of activities in the Cincinnati/Newport area, including "Breakfast on the Bridge" on the Purple People Bridge from 7:00 – 9:00 a.m. on Friday, May 16. Enjoy breakfast on the bridge with your friends on bikes! Bike to the Newport side of the bridge for all of the goodies. The festivities will continue with a picnic and celebration in Washington Park at noon. Visit http://www.queencitybike.com/bike-month/ for details.
Safety First
In Ohio, by law, bicycles on the roadway are vehicles – with the same rights, and responsibilities as motorized vehicles. The Ohio Department of Transportation encourages cyclists to follow these tips:
Have your bike checked over by your local bike shop
Always wear a helmet to protect your head in the event of a crash
Ride in the right-most lane that goes in the direction that you are traveling
Obey all stop signs, traffic lights and lane markings
Look before you change lanes or signal a turn; indicate your intention, then act
Be visible at all times; wear bright clothing and equip your bike with front and rear lights
By fostering a mutual respect between motorists and bicyclists, we can enhance safety for all road users.
Why bike to work?
Bike to Work events are a great way to reintroduce yourself to riding again! Many first-time commuters who participate in Bike to Work events become regular bike commuters.
Group riding can help give you the skills you need to feel safe commuting on streets and on off-road facilities. The workout you'll get is great for your physical health and helps to make you more alert and mentally active. While being a great way to help the environment, it also saves you money!