App pays passengers and bystanders to report distracted driving
Posted in Accident & Injury on January 12, 2018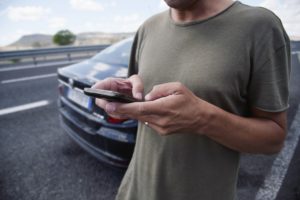 There are two types of drivers in the world: Those who engage in distracted driving and those who don't.
For those who don't, it can be frustrating – even infuriating – to see other drivers texting while driving, talking on their phones while driving, and engaging in other dangerous behavior behind the wheel.
But there is little for the drivers and passengers to do when they see a distracted driver.
That is, up until now.
California startup uses crowdsourcing to report distracted drivers
Text To Ticket is an app that allows passengers and bystanders to submit videos of distracted drivers.
Using the app, the user records a distracted driver and sends to Text To Ticket. The video is independently reviewed to determine if it is valid. Approved videos are sent to the police department.
The user who captures the video is paid $5.00 by Text To Ticket. There are many criteria that must be met in order for the video to be determined valid/user to get paid.
The video must clearly capture a driver using his or her phone while driving. The license plate must be visible in the same take as the offense, ensuring that the video has not been edited. The app captures additional information (speed, distance, and location). All of this information is bundled and sent to Text To Ticket.
Text To Ticket partners with police departments and city governments to crack down on distracted drivers. This technology is used similar to how red light cameras are used.
This app could certainly have an impact on distracted driving. Would you use the app? Please share your thoughts in the comments below.