Actos Bladder Cancer Settlement
Posted in Drug & Medical Devices on April 30, 2015
Pharmaceutical giant Takeda has agreed to a $2.4 billion settlement to compensate plaintiffs who allege they developed bladder cancer after taking the diabetes medication, Actos® (pioglitazone).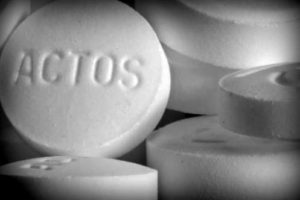 Officials at Takeda Pharmaceutical Co. said the offer will resolve a "vast majority" of the more than 8,000 Actos bladder cancer claims. In a press release, the company explained, "The settlement will become effective if 95 percent of current litigants and claimants opt into the settlement. Once that threshold is achieved, Takeda will pay $2.37 billion into a settlement fund. However, that figure will rise to $2.4 billion if 97 percent or more of the current litigants and claimants opt to participate in the settlement."
Under those terms, each plaintiff would be entitled to roughly $296,000, with individual breakdowns based on specific criteria such as smoking history, duration of ingestion, and severity of injuries. That may seem like a lot of money; nevertheless, with jurors awarding a single plaintiff $9 billion in an Actos case last year (that verdict was eventually reduced to $36 million), some people may decide not to participate in the settlement and pursue their claims individually.
In that case[1], U.S. District Judge Rebecca Doherty of the Western District of Louisiana chided Takeda and co-defendant, Eli Lilly, for their deplorable behavior and explained the reason for the significant punitive damages:
When, as here, two defendants have been found to have engaged in conduct of a high degree of reprehensibility and put not only the plaintiffs, but the public health and welfare at risk, all in order to generate tens of billions of dollars in sales, an award large enough to sufficiently punish in order to effectively deter such conduct would seem to be warranted.
According to court documents, more than 100 million prescriptions have been written for Actos in the United States, with more than $24 billion in cumulative sales since the drug went on sale in 1999.
Am I eligible for compensation under the Actos Settlement Program?
According to information posted on the District Court of the Western District of Louisiana's website, The Program is open to claimants who fit all of the following criteria:
Allege that they have bladder cancer;
First used Actos prior to December 1, 2011
Either have a lawsuit currently pending or retained counsel to assert a claim within 3 days of the announcement of the settlement (i.e., by noon EDT on Friday, May 1, 2015)
Plaintiffs who do not qualify for the Settlement Program may still be eligible to file a claim.
Contact an experienced Actos Injury Lawyer today to discuss your case.
Sources:
"Takeda Agrees to Pay $2.4 Billion to Settle Suits Over Cancer Risk of Actos" by Andrew Pollack. New York Times, April 28, 2015.
"Takeda, Lilly Win 99.6% Cut in Actos Punitive Damages" by Jef Feeley. Bloomberg News, October 28, 2014.
---
[1] Allen v. Takeda Pharmaceuticals North America Inc., 12-cv-00064, U.S. District Court, Western District of Louisiana (Lafayette)