4th of July – Fireworks Safety
Posted in Accident & Injury on July 3, 2013
Fireworks have become synonymous with Independence Day celebrations. Sold everywhere from wholesale distributors to the local grocery store, fireworks come in a wide variety of styles, each carrying its own risks.
"Every legally available backyard firework has been associated with serious injury and death," Gary Smith, president of the Child Injury Prevention Alliance, said in a released statement. "Although some people mistakenly believe that backyard fireworks are safe if only adults handle them, our research shows that one-quarter of fireworks-related injuries to children occur to bystanders. These children were not using the fireworks themselves and yet they were still injured."
According to the National Fire Protection Association, nearly 10,000 people were treated for fireworks-related injuries in U.S. emergency rooms. 61 percent of 2011 emergency room fireworks-related injuries were to the extremities and 34 percent were to the head.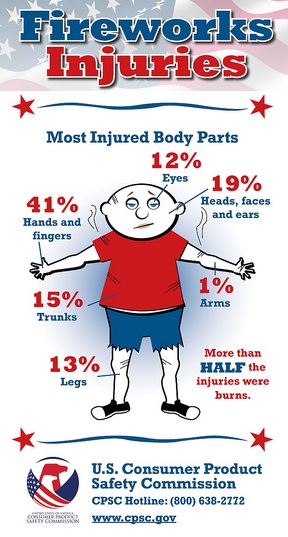 Fireworks guidelines
Follow local laws (see below)
Never allow children to play with or ignite fireworks
Never try to re-light or pick up duds
Read warning labels carefully before igniting
Always have water handy
Light fireworks one at a time then move back quickly
Never point or throw fireworks at another person
Never attempt to alter or modify consumer fireworks
Douse used fireworks with water before throwing them away
Ohio Laws
Novelty Fireworks like sparklers, snakes, punks, snaps and smoke bombs are legal in Ohio.
Consumer Fireworks such as bottle rockets, firecrackers, Roman candles and fountains may be purchased in Ohio only if the consumer signs an affidavit agreeing to remove the items from the state within 48 hours.
Professional Fireworks including display fireworks and pyrotechnics are illegal to purchase or use without proper licenses and training.
Sources:
"Ohio Residents Advised Not to Use Home Fireworks over the Holiday" by Mark Kovac, Nordonia Hills News-Leader, July 3, 2013.
"Safe Fun with Fireworks" Ohio Department of Health, accessed July 3, 2013.