Elk & Elk attorneys recognized on 2017 Super Lawyers, Rising Stars lists
Posted in Firm News on December 5, 2016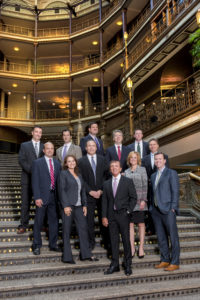 The success of a law firm is measured by independent review, peer recognition and client satisfaction. The attorneys of Elk & Elk respect each of these perspectives, and are humbled by the continuous recognition as Super Lawyers by their peers.
Five Elk & Elk attorneys were recognized on the top 100 in Ohio list, and a total of 13 attorneys were named Super Lawyers or Rising Stars. The depth of talent within Elk & Elk has provided their clients with results totaling more than 1 billion dollars in recovery.
Communication, diligence and collaboration define Elk & Elk's practice. It is the attorneys' belief that clients deserve access to their lawyer when questions or needs arise. Elk & Elk ensures all clients' questions are answered and works to guide them through the legal process with a thorough understanding of the legal remedies available.
Collaboration begins with the many resources Elk & Elk has available.  Every client has access to in-house nurses, paralegals, accountants, accident reconstructionists and support staff who work together to bring unique perspective and skills to each client's case.
Through more than 35 years of serving clients, they have expanded their efforts into the community. With support from the Cleveland Cavaliers, Elk & Elk created "Get That Weak Stuff Out Of Here" to raise resources and awareness for the fight against pediatric cancer. In addition, the firm's "Everything Earned" program awarded six high school athletic departments grants for their outstanding achievements in sports as well as in the classroom and community.
"When Art and I founded Elk & Elk 35 years ago, we had dreams of great success, like most business owners," says David Elk. "Our firm continues to grow, and in the process those dreams continue to be exceeded. Not everyone here has the last name of Elk, but we are very much a family, and it is our privilege to help families in need throughout Ohio."