Elk & Elk approaches 100 Super Lawyers and Rising Stars honors
13 Elk & Elk attorneys recognized by Super Lawyers in 2018, four named to Top 100 in Ohio
Elk & Elk is proud to announce that 13 of the firm's attorneys were recognized on the 2018 Ohio Super Lawyers and Rising Stars lists.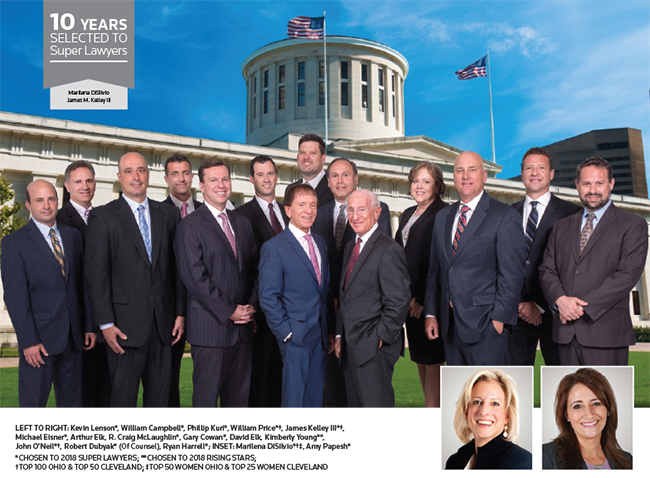 Partners Jay Kelley, John O'Neil, and Marilena DiSilvio were included on the Top 100 in Ohio and Top 50 in Cleveland lists. DiSilvio was also named to the Top 50 Women in Ohio and Top 25 Women in Cleveland lists. Kelley and DiSilvio have each been selected to Super Lawyers for 10 years.
Partner Phillip Kuri and eight additional Elk & Elk attorneys were selected to the 2018 Ohio Super Lawyers list, including: William Campbell, Gary Cowan, Michael Eisner, Ryan Harrell, Kevin Lenson, R. Craig McLaughlin, Amy Papesh, and William Price. Price was also recognized on the Top 100 Ohio and Top 50 Cleveland lists. Attorney Kimberly Young was once again named to the Rising Stars list.
Robert Dubyak of Dubyak Nelson LLC, of counsel to Elk & Elk on business-related matters, was selected to the 2018 Super Lawyers List as well.
With nearly 100 Super Lawyers and Rising Stars selections under the firm's belt since 2005, Elk & Elk is regularly recognized by peers in the legal industry and the respected attorney-rating systems, including Super Lawyers. In the firm's history, Elk & Elk attorneys have earned 25 inclusions on Ohio's Top 100 list and five Top 10 honors.
"Our success and the respect of our peers are demonstrative of our commitment to providing our clients the best legal talent and all of the resources they deserve," says Managing Partner Arthur Elk of the honors.
Super Lawyers, part of Thomson Reuters, recognizes top attorneys from firms of all sizes and more than 70 practice areas. Attorneys are nominated by their peers, validated by third-party independent research and evaluated by a highly credentialed panel of attorneys prior to final selection.
In each state, no more than five percent of attorneys are selected by Super Lawyers, and just 2.5 percent of attorneys are recognized on the Rising Stars list. These exclusive lists honor attorneys who attain high degrees of peer recognition and professional achievement, and serve as a valuable resource for both consumers seeking legal counsel and referring attorneys.
The Super Lawyers lists are published nationwide in Super Lawyers Magazines and in leading city and regional magazines and newspapers across the country.