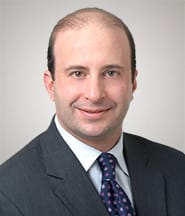 Phone: 440-442-6677
Location: Mayfield Heights, Ohio
Fax: 440-442-7944
Email: Email Me
Kevin L. Lenson joined Elk & Elk Co., Ltd. in January 2010 and focuses his practice on auto accidents, workplace intentional torts and premises liability. Kevin was honored to be listed as an Ohio Super Lawyer in 2015, 2016, 2017 and 2018.
He passed the bar in 1996 and has worked for two plaintiffs' law firms in Northeast Ohio since. He earned his undergraduate degree in political science from the University of Wisconsin in Madison in 1992 and went on to earn his law degree from the University of Toledo in 1996.
Lenson's professional memberships include the Ohio Academy of Trial Lawyers and the Ohio State Bar Association. He's married, has a daughter and two sons and resides in Solon.
Four words describe Lenson's greatest strength, he said: "I'm a people person."
"That's what I really enjoy the most about being a plaintiffs' lawyer," he said. "I really enjoy meeting and working with people, especially people I can help; people who have gone through struggles, unfortunate circumstances."
He said he takes "great care" with each and every client and it's his satisfaction in helping them see their way to a fair resolution that makes him most satisfied with his work.
"I think one of my greatest strengths is my ability to explain to people how the law works and how it applies to their specific situations," Lenson said. "I always deal with my clients on equal terms. If there's something they don't quite understand we work through it until they do."
Lenson said any effective client-lawyer relationship is built on a solid foundation of good communication.
"That's the only way to proceed. I mean, the most important aspect of doing this type of work is good, solid client communication."
He said aside from making sure his clients know the status of their cases, he likes to check up on their progress, health-wise, make sure their families are weathering the legal concerns in the wake of an unfortunate incident, and reassure them everything is going to be OK.
"That's how we level the playing field," he said. "Sometimes that's all it takes – a little time to listen, to explain about something. And, at the end of the day, that's what makes me feel like I've actually helped someone – that look of relief, understanding – and knowing I've helped someone through a very difficult time."
He said joining Elk & Elk Co., Ltd. and being able to use the firm's vast resources will only help him get that feeling more and more.
"Working with firm the size of Elk & Elk Co., Ltd. gives me an opportunity to handle a variety of cases all over the country and, as a result, to be able to help the most people."
Settlements and Verdicts:
$648,000 – Motor Vehicle Accident in Fremont, Ohio area
Client sustained serious hip fracture requiring immediate surgery and lengthy hospital stay and recovery.
$565,000
Worksite accident where our client sustained a closed head injury and missed a significant amount of work following the accident.
The client's dump truck completely flipped over due to overloading at a construction site.
$555,000 – Motor Vehicle Accident results in fractured leg and vertebrae.
Our client was being transported in an ambulette and was not properly fastened. The client sustained a fractured leg and vertebrae.
$425,000 
Motor vehicle accident where are client suffered a fractured dominant left wrist requiring 3 operations and missed over a year from work.
$425,000 – Motor vehicle accident results in multiple fractures, internal injuries
Our Client, a 70-year-old male, was injured when he was pinned between his camper and another camper that was driven by the Defendant. The client sustained multiple fractures and internal injuries.
$350,000 – Motor vehicle accident results in fracture (2005)
Plaintiff was involved in a head-on automobile accident in Ashtabula County. Client sustained a significant right heal fracture.
$250,000 – Motor vehicle accident results in multiple injuries, surgery (March 2010)
Defendant failed to yield at a left turn and crashed into the Plaintiff as a result. Plaintiff suffered multiple injuries, including fractured left hip, facial contusions, bruising and an injury to the right arm. Client underwent surgery for the damages.
$175,000 – Negligent supervision results in arm fracture (2009)
Handicapped six-year-old girl was injured in an after school program after falling from playground equipment. We alleged negligent supervision. Plaintiff suffered a significant arm fracture including surgery.
$100,000 – Motor vehicle accident results in broken ankle (May 2010)
Defendant went left of center, causing Plaintiff to suffer a broken right ankle and bruises to left arm.
$44,000 – Motor vehicle accident results in rotator cuff injury (January 2011)
Defendant failed to yield at a stop sign, causing a three-car accident. Plaintiff suffered a back sprain and an injury to the right rotator cuff.
$30,000 – Dog attack results in knee injury (February 2011)
While at a campground, a Sheppard/Rottweiler mix went toward the Plaintiff's small dog but missed and proceeded to run into the Plaintiff's leg. The Plaintiff fell down and sustained an injury her knee. She now sees an orthopedic surgeon and may require surgery for ligament damage.
$20,000 – Slip and fall results in multiple injuries (February 2011)
Plaintiff and her husband went out to dinner at a restaurant whose staff failed to wipe the floor properly after waxing and cleaning it with oil. Plaintiff, who was pregnant at the time, fell, hit her head, twisted her wrist and bumped her leg. She went to the emergency room for X-rays and immediate treatment.
All lawsuits are different and Elk & Elk makes no representation or promises that it can obtain the same results in other cases. These results do not guarantee, warrant, or predict the outcome of any future legal matter. You should consult an attorney for advice regarding your individual situation.
Bar Admissions
Ohio, 1996
U.S. District Court Northern District of Ohio, 2000
Education
University of Toledo College of Law, Toledo, Ohio
University of Wisconsin – Madison, Madison, Wisconsin
Honors and Awards
Ohio Super Lawyers – 2015, 2016, 2017, 2018
Professional Associations and Memberships
Cuyahoga County Bar Association, Member
Ohio Academy of Trial Lawyers, Member
Ohio State Bar Association, Member