Dangers Of Unexpected Roadway Hazards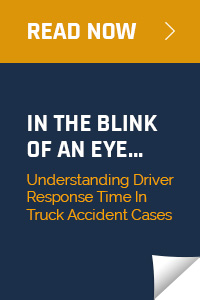 On average, it takes a driver 1.5 seconds to see a roadway hazard, recognize what it is, decide how to react to it, and initiate a reaction.
When something unexpected is in the road – a tractor-trailer that is illegally backing into the road, for example – a driver must make a split-second decision. Unfortunately, in a situation like this, it may be too late to avoid a collision.
Perception-reaction time is often a major factor in car and truck accident cases. We take a closer look at this issue in our latest white paper: In The Blink Of An Eye… Understanding Driver Response Time In Truck Accident Cases.
In this free white paper, we explain:
The concept of perception-reaction time, and why it matters in auto accident cases
The difference between visibility and discernibility
What regulations trucks must meet regarding conspicuity materials
And much more
We invite you to download our free white paper to learn more about this topic. If you or a loved one has been injured in a trucking accident, this information may prove especially beneficial.
Click on the slide deck below to see highlights from our white paper.