Elk & Elk Partner Jay Kelley Earns OACTA Respected Advocate Award
Elk & Elk Partner Jay Kelley was recently honored by the Ohio Association of Civil Trial Attorneys (OACTA) as the recipient of the 2017 Respected Advocate Award. Kelley and other award recipients were honored during the OACTA Awards Luncheon and Annual Business Meeting on Thursday, Nov. 16.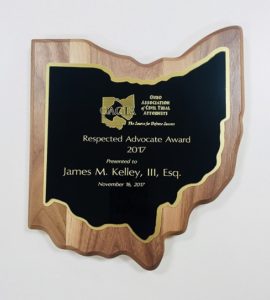 The Respected Advocate Award recognizes a plaintiff attorney who demonstrates a history of success in civil litigation; the respect and admiration of counsel on the opposing side of the bar; and unfailing adherence to the highest standards of ethics and professionalism in dealing with courts, clients and all counsel. It is the OACTA's only annual award given to a plaintiff attorney."I define success by relationships in my life. Professionally, I seek to earn the trust of my clients and respect of my peers. This award validates my peers on the opposite side of cases respect me as highly as I them," says Kelley. "To be the 'Respected Advocate Award' recipient for 2017 from OACTA is a true honor."
Kelley has been a Partner at Elk & Elk since 2011, where he focuses his practice on matters of medical negligence and wrongful death arising from birth injury, surgery; oncological, cardiac and pharmaceutical product liability causes.
About the Ohio Association of Civil Trial Attorneys
The Ohio Association of Civil Trial Attorneys (OACTA) is an organization of attorneys, corporate executives and managers who devote a substantial portion of their time to the defense of civil lawsuits and the management of claims against individuals, corporations and governmental entities. OACTA, "The Source for Defense Success," has been serving the public, the business community and the legal profession in Ohio for over 50 years. Visit www.oacta.org for more information.