Blocking Pediatric Cancer | Elk & Elk with the Cleveland Cavaliers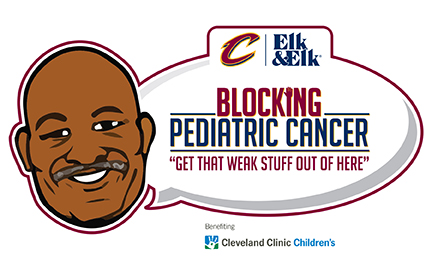 "Get That Weak Stuff Out Of Here!" Campaign to Launch on January 4
Elk & Elk and the Cleveland Cavaliers have partnered to support the fight against pediatric cancer. The "Get That Weak Stuff Out Of Here!" Campaign, which engages Cavs legend Austin Carr as a spokesperson, ties each shot blocked by the team to a $100 donation to Cleveland Clinic Children's Hospital.
"Our goal was to find a platform to bring awareness to the scope of the challenges pediatric cancer creates for children and their families, while contributing to the Clinic's efforts to fight the disease. We hope to engage our fellow Cavs fans and use the program as a recurring resource for the cause,"
Elk & Elk Partner Jay Kelley says of the campaign.
The campaign will be launched during the game on Monday, January 4, against the Toronto Raptors. Elk & Elk and the Cavs will offer various opportunities for fans to donate and get involved throughout the season, and plan to extend the program into the playoffs.
Carr, who is known to fans as "Mr. Cavalier," serves as Director of Community and Business Development for the Cavaliers and is in his 18
th season as a TV color analyst for Cavs games on Fox Sports Ohio. The campaign is named after the popular catch-phrase, "Get that weak stuff out of here!," that he uses each time a shot is blocked by the team.
"Northeast Ohio is so fortunate to have Cleveland Clinic Children's in our own backyard and we are grateful for the work that they do. We are also thankful for organizations like Elk & Elk for stepping up to help make a difference. If my words can be a rally call against pediatric cancer then I'm ready to shout it from the rooftop," said Carr.
Although pediatric cases account for less than one percent of all cancers diagnosed annually, cancer is the second leading cause of death in children. More than ten thousand children under the age of 15 were expected to be diagnosed with cancer in the United States in 2015. The most common forms of pediatric cancer include leukemia, neuroblastoma and brain and central nervous system tumors.
"We are deeply grateful for Elk & Elk and the Cavs' commitment to helping our young cancer patients. This campaign will help raise awareness and funds for childhood cancer but most importantly, put a smile on the faces of our patients," said Cleveland Clinic Children's in a statement about the program.
Proceeds from the campaign will support pioneering pediatric cancer research with the hope of discovering new treatment options for young patients.
Fans are encouraged to join the firm in the fight against pediatric cancer. Donations can be made on Elk & Elk's team fundraising page or by visiting the "Make A Gift" page on
giving.ccf.org/childrens and directing the gift to Children's Cancer.