Elk + Elk Presents 2023 Columbus Blue Jackets Military Appreciation Night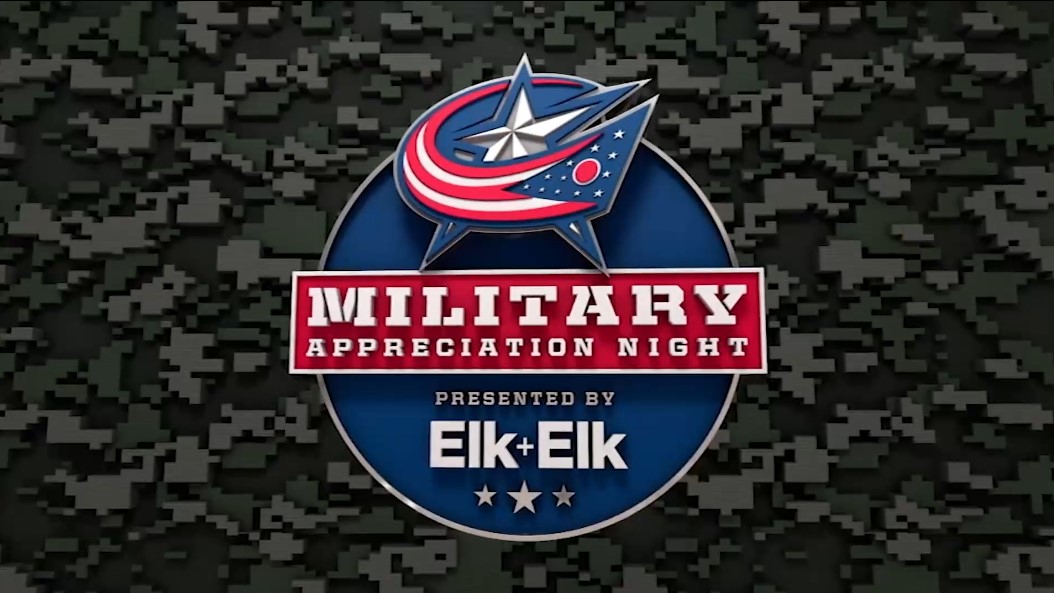 Elk + Elk is thrilled to sponsor and join the Columbus Blue Jackets in recognizing and saluting those who have and are currently serving the nation's armed forces for the 2023 Military Appreciation Night.
Military Appreciation Night
Thursday, January 5, 2023
7 pm
Nationwide Arena
More than 1,000 active and retired military members will visit with their families and be honored for their service. The evening will feature fundraisers, tributes, activities, and much more to show support and gratitude for all active and retired service personnel. Plus, the first 10,000 fans will receive a CBJ branded camo hat from Elk + Elk.
USO Item Drive
The collection begins at 5:30 p.m. at G1/G3, McConnell & Front St. Entrances, and Tower entrance. Items collected from the drive will be donated to stock central Ohio USO Support Lounges for military personnel and their families. To see the complete list of items to donate, visit CBJ's Military Appreciation Night Page.
Fans who donate to the USO item drive will receive a voucher for an exclusive ticket offer for an upcoming home game.
Jersey Raffle and Auction
The CBJ Foundation offers several Military Appreciation-themed items to fans. The auction will open at 9 a.m. and close at the end of the 2nd intermission on January 5. Fans have the opportunity to bid on and purchase the following items:
There will be several Military Apprecation-themed items from the CBJ Foundation for fans to auction on. The auction will open at 9 a.m. on January 5 and close at the end of 2nd intermission. The following items are available to bid on and purchase:
Autographed Military-themed items
Select autographed camouflage-style taped sticks used during pre-game warm-ups
Limited official warm-up pucks
The Blue Jackets Foundation will be raffling select individually worn, autographed camouflage-style warmup jerseys for the jersey raffle. The jersey raffle will begin on January 5 at 9 a.m. and finish at the end of 2nd intermission of the CBJ home game on January 12. To purchase $10 raffle tickets, fans can text CBJAUCTION to 76278, visit cbjauction.givesmart.com, or purchase in-arena on January 5, 7, and 12.
The Blue Jackets Foundation will also host the 50/50 raffle, with proceeds benefiting USO Ohio. On January 5, the raffle will open at 9 a.m. and end at the end of the 2nd intermission. The winner of the raffle will be announced during the 3rd period. Interested in participating? Raffle tickets can be purchased HERE.
Military Personnel Ticket Offer
There will be an exclusive ticket offer to continue the recognition and salute towards active and retired military personnel. All Veterans, Active Duty, Reserve personnel, and Cadets are eligible to receive one FREE ticket with purchase. Each ticket will also include a commemorative Blue Jacking Military Jersey. Visit bluejackets.com/military to purchase tickets.
Elk + Elk salutes any active and retired military personnel, and once again, we thank you for your service!