Elk + Elk Announces $2.15M Verdict in Medical Malpractice Case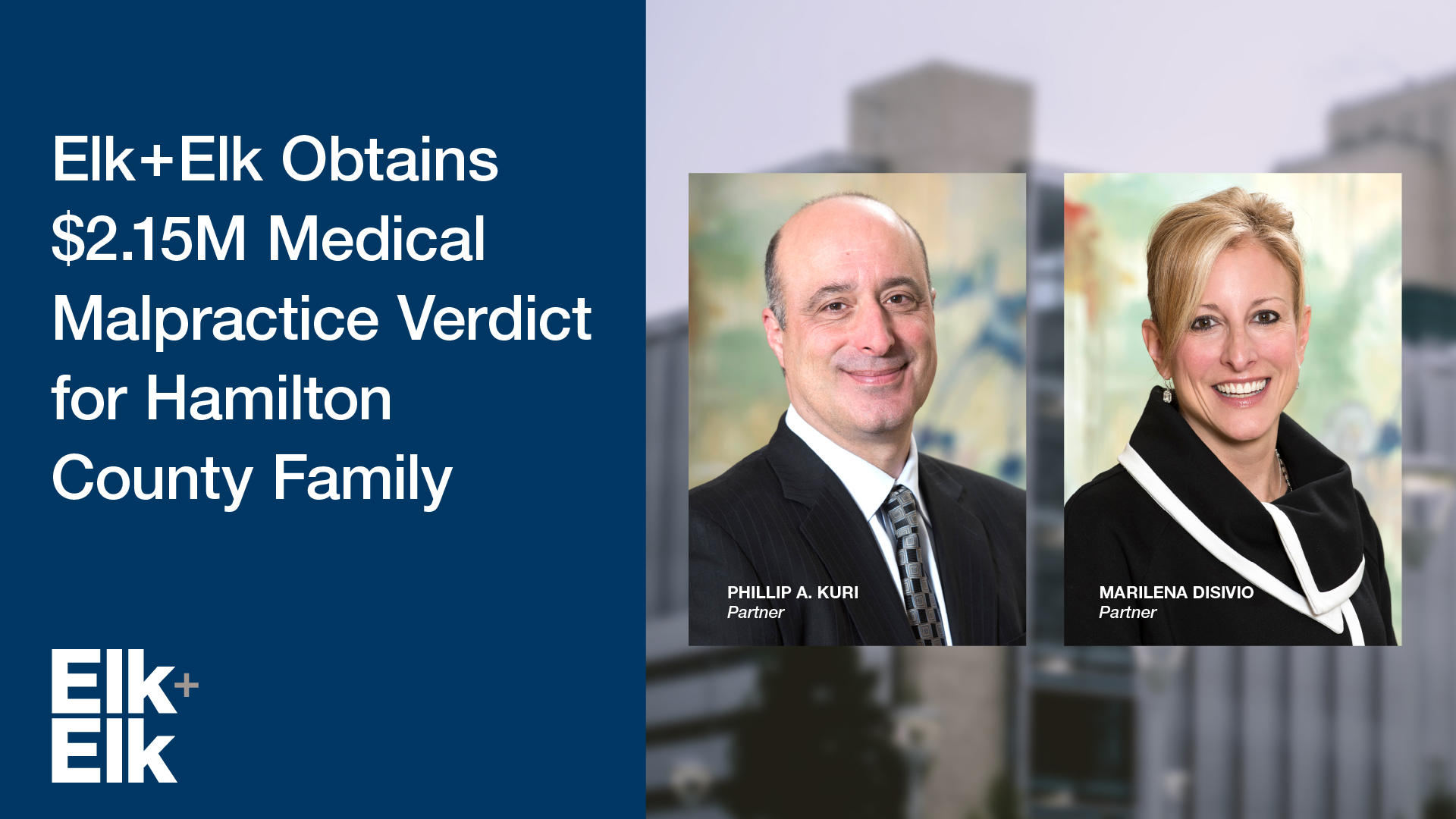 Attorneys Phillip Kuri & Marilena DiSilvio Obtain Justice for Client
HAMILTON COUNTY, OH, February 09, 2023 
A Hamilton County jury has awarded the family of Wayne Furr Sr., $300,000 for his survivorship claim and $1.8 million for the next of kin's wrongful death claim as a result of a medical malpractice case against his gastroenterologist (GI).
"After a 5-year fight, we are pleased to get justice for a family who lost a husband, father, grandfather, and great-grandfather," said Elk + Elk Partner Phil Kuri. "We are fortunate to have the resources and abilities to bring devastating cases like these to justice."
On March 8, 2018, at age 77, Mr. Furr had an esophagogastroduodenoscopy (EGD) with a biopsy performed by Dr. Hess. Mr. Furr was under conscious sedation without intubation and aspirated during the procedure. As a result, Mr. Furr's oxygen saturation dropped, and he developed shortness of breath and a cough. EMS then transported him to Mercy Hospital in respiratory distress. At the Mercy Hospital Emergency Room, he was diagnosed with acute respiratory failure and hypoxia as a result of multi-focal pneumonia related to the aspiration that occurred during the EGD.
Mr. Furr died because of aspiration during his EGD resulting in his death due to aspiration pneumonia. Dr. Hess failed to adhere to the standard care and failed to communicate to the anesthesiologist Mr. Furr's risk factors for aspiration, including the fact that Mr. Furr had complained of active reflux the morning of the scheduled procedure. Had this necessary communication occurred, the procedure would have been canceled, and he would not have died.
Mr. Furr's wife of 57 years, Peggy, testified that before March 8, 2018, Mr. Furr was very active. He lived at home with his wife and could travel, maintain their home together, work on race cars as a hobby, and be an active member at the Masonic Temple.
Elk + Elk Partners, Phillip A. Kuri and Marilena DiSilvio, represented the estate of Wayne Furr, Sr., during the lawsuit that was filed on February 28, 2019.
About Phillip A. Kuri
Attorney Phillip A. Kuri, a partner at Elk + Elk, practices in the areas of personal injury, medical malpractice and general tort law, among others. Attorney Kuri has been selected as an Ohio "Super Lawyer," recognized by the Million Dollar and Multi-Million Dollar Advocates Forums and is a member of the American Association for Justice Top 100 Trial Lawyers.
About Marilena DiSilvio
Attorney Marilena DiSilvio, a partner at Elk + Elk, focuses on birth injuries, medical negligence, wrongful death and personal injury. Attorney DiSilvio is listed in Best Lawyers in America, and Ohio Super Lawyers has named her to Top 50 Women Ohio and Top 25 Women Cleveland. She was also recognized by Marquis, "Who's Who of American Women."
About Elk + Elk
The Elk + Elk® personal injury law firm represents clients in cases throughout Ohio. The firm has 18 trial attorneys with experience in motor vehicle collisions, medical malpractice, nursing home neglect, defective products, workplace accidents, and premises liability. Elk + Elk Co., Ltd. has offices located at 6105 Parkland Boulevard, Suite 200, Mayfield Heights, Ohio 44124 and locations throughout Ohio, including Cleveland, Columbus, Cincinnati, Akron, Canton, Dayton, Toledo, and Youngstown. For more information, visit elkandelk.com.
---
In the News