St. Augustine Hunger Center 2015
Help Elk & Elk Stock the Pantry at St. Augustine Hunger Center!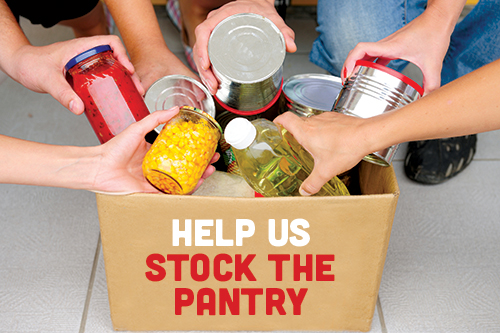 Elk & Elk has had the pleasure of supporting St. Augustine Roman Catholic Church and Hunger Center for more than a decade. We contributed four hundred turkeys to this year's Thanksgiving meal program, and filled more 60 care bags for the homeless with donations from our in-office collection.
The annual food drive took place on Wednesday, November 25, but the Hunger Center relies on the generous donations of individuals and businesses in the Cleveland area year round.
You can make a difference!
St. Augustine Hunger Center expects to serve nearly 20,000 meals per holiday during Thanksgiving and Christmas. There are a variety of ways you can assist the Center's efforts during this busy time.
Items such as potatoes, onions, canned gravy, cornbread mix, canned vegetables, bread and cranberry sauce are still needed to complete this year's holiday meals. Store-bought pastries and baked goods are appreciated as well.
Around 7,000 holiday meals will be delivered to those who cannot leave their homes. If you are interested in volunteering to be a driver for the deliveries, please call 216-781-5530.
The following staples are in high demand throughout the year at the Hunger Center:
• Canned tuna fish
• Canned soup
• Mac & cheese
• Canned fruits and vegetables
• Hot and cold cereal
• Pasta
• Peanut butter
• Jelly
Monetary donations can be made using a credit card on the St. Augustine website.
In addition to food and monetary donations, clients of St. Augustine Hunger Center are in need of the following personal hygiene products:
• Shaving Razors (male and female)
• Pocket tissue packs
• Travel size toothpaste
• Toothbrushes
• Small packs of baby wipes
• Deodorant
• Travel size mouthwash
• Dental floss
About St. Augustine Roman Catholic Church and Hunger Center:
The St. Augustine Hunger Center cares for Cleveland's poor, disabled and homeless. The Center serves daily meals, and provides clothing for thousands of people each month. Emergency funding and housing are also available to the Center's clients, among other advocacy and outreach programs. For more information, visit the St. Augustine Hunger Center website.
St. Augustine Church and Hunger Center
2486 West 14th Street
Cleveland, OH 44113
216-781-5530