St. Augustine Hunger Center – Stock the Pantry 2014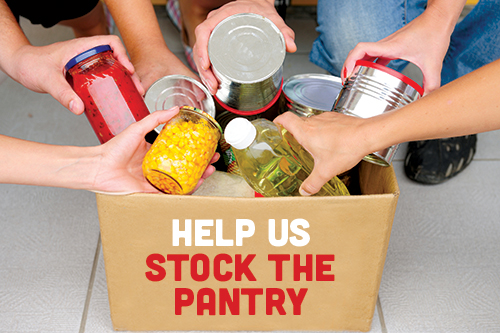 As you give thanks this holiday season, please take a moment to pay it forward. We invite you to join Elk & Elk on Wednesday, November 26, 2014, as we mark our 10th year stocking the pantry during the annual food drive at St. Augustine Roman Catholic Church and Hunger Center.
Once again, we will be teaming up with Mark "Munch" Bishop of ESPN Cleveland, who is celebrating 25 years of service with St. Augustine. The event will be broadcast live on 850 WKNR from 4:30 a.m. – 9 a.m.; however, you can drop off donations throughout the day. As has been our tradition, Elk & Elk is donating hundreds of turkeys for the Thanksgiving feast.
It's easy to participate, just bring your donations to St. Augustine's in Cleveland's Tremont neighborhood and leave the heavy lifting to us. Our attorneys, staff members and their families will be among the volunteers on hand to unload your vehicle.
Top 10 Most Needed Food Items
Canned Soup and Stew
Hot and Cold Cereals
Macaroni & Cheese
Canned Vegetables
Canned Fruits
Canned Tuna
Peanut Butter
Jelly
Pasta
Rice
About the Center
The St. Augustine Hunger Center provides meals and addresses other needs of the poor and the homeless; such as food, clothing, emergency funding for rent and utilities, furniture and appliances, as well as advocating for those seeking medical help. Staffed entirely by volunteers, the Center is open year-round—serving three meals every day for hundreds of people in our community.
St. Augustine Church and Hunger Center
2486 West 14th Street
Cleveland, OH 44113
216-781-5530
www.staugustine-west14.org
"We are thankful for the wonderful community in which we live. What better way to express our gratitude, than to share our bounty with those in need." – Arthur M. Elk
Elk & Elk is proud to support deserving charities and organizations through financial contributions and providing advertising space online and TV.