Elk & Elk Proud Partner of the Dayton Dragons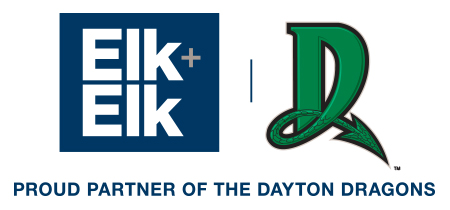 Since 2018, Elk & Elk has partnered with the Dayton Dragons in an ongoing effort to expand our firm's support of professional and collegiate sports teams across the state.
About the Dayton Dragons
The Dayton Dragons are a Class A minor league baseball team based in Dayton, Ohio. The team competes in the Midwest League and is affiliated with the Cincinnati Reds. Their home stadium is Fifth Third Field. The Dragons have developed a loyal and dedicated fan base, and the team consistently leads the Midwest League and all of Single A baseball in total season attendance.
Serious Lawyers for Serious Baseball
Elk & Elk is a featured sponsor of various Dayton Dragons radio, live telecast, and in-game elements. The firm will also have opportunities to present the Player and Play of the Game, batting orders, pitching match-ups, and other highlights.
Elk & Elk is proud to join the Dayton community in supporting the Dragons.
Go Dragons!