"Block Hunger" Campaign Benefitting St. Augustine Hunger Center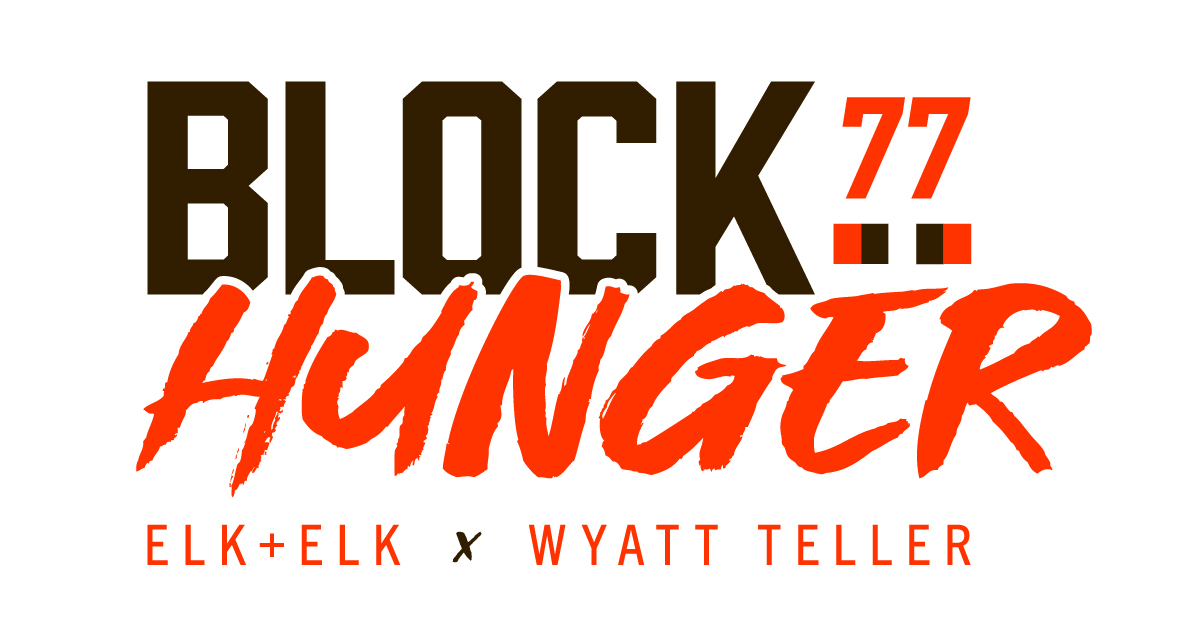 Elk + Elk Partners with Cleveland Browns Wyatt Teller
As a proud partner of the Cleveland Browns, Elk + Elk is thrilled to announce that we are teaming up with Cleveland Browns offensive guard Wyatt Teller for the "Block Hunger" campaign!
Starting September 11, for every point scored by the Cleveland Browns during the 2022 season, Elk + Elk will donate $77. Plus, every game Wyatt Teller has a pancake block, Elk + Elk will donate an additional $770.
All donations will support St. Augustine Hunger Center in Cleveland, Ohio.
Elk + Elk's long-standing relationship with St. Augustine made it an easy decision to use them for this campaign. For the past 18 years, we have volunteered and helped St. Augustine stock its pantry for Thanksgiving and are excited for the opportunity to continue our support.
When asked about the campaign, managing partner Jay Kelley said, "We are very excited to advocate for this great cause through our campaign in partnership with Cleveland Browns Guard Wyatt Teller. We hope the campaign will create awareness and encourage others to help St. Augustine during the 2022 Browns season."
After signing a contract extension last season, Wyatt and his wife, Carly, have settled down in Cleveland and are just as excited as we are for this partnership. When asked about the "Block Hunger" campaign, they said, " We look forward to pancakes from #77 on the field so we can serve the people in our community off the field."
Campaign Wrap-Up
The Block Hunger campaign concluded on January 8, 2023, with a $38,577 donation made to St. Augustine Hunger Center.
How You Can Help
Donate to St. Augustine Hunger Center
The St. Augustine Hunger Center cares for Cleveland's poor, disabled, and homeless. The Center serves daily meals and provides clothing for thousands of people each month. Emergency funding and housing are also available to the Center's clients, among other advocacy and outreach programs.

Track the Stacks
Week 1
26 Points + Pancake Block = $2,772.00
Week 2
30 Points + Pancake Block = $3,080.00
Week 3
29 Points + Pancake Block = $3,003.00
Week 4
20 Points + Pancake Block = $2,310.00
Week 5
28 Points + Pancake Block = $2,926.00
Week 6
15 Points + Pancake Block = $1,925.00
Week 7
20 Points = $1,540.00
Week 8
32 Points = $2,464.00
Week 9 – BYE
Week 10
17 Points = $1,309.00
Week 11
23 Points + Pancake Block = $2,541.00
Week 12
23 Points + Pancake Block = $2,541.00
Week 13
27 Points + Pancake Block = $2,849.00
Week 14
10 Points + Pancake Block = $1,540.00
Week 15
13 Points + Pancake Block = $1,771.00
Week 16
10 Points + Pancake Block = $1,540.00
Week 17
24 Points + Pancake Block = $2,618.00
Week 18
24 Points + Pancake Block = $1,848.00
Shoutouts